Events
Recent Events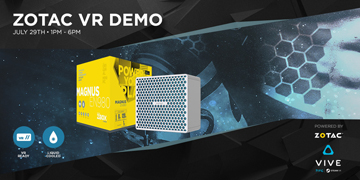 VR Experience powered by ZOTAC
City of Industry, California, July 29, 2016:
Hello PC and Gaming Enthusiasts,
Want to experience something beyond the realm of reality? Come step into the world of VR with ZOTAC. Come join us at Newegg's Hybrid Center for a VR Experience powered by ZOTAC on Friday, July 29th from 1pm – 6pm.
Featuring the world's first liquid cooled Mini PC & the world's first completely wireless VR Backpack.
The MAGNUS EN980 enables a VR experience like no other. Designed for extreme performance, the MAGNUS EN980 lets the virtual world come alive. Powered by Intel's 6th generation Intel processor and NVIDIA's GeForce GTX 980 graphics, you can enjoy virtual reality in HD.
ZOTAC'S VR Backpack is completely wireless, lightweight, and up to 2 hours of playtime providing you complete freedom and comfort while you're exploring the world of VR.
We will also be featuring products showcased at our booth at Computex. So come join us for an event like no other and have chance to win a NVIDIA GTX 1060!
Computex-Featured Products
ZBOX PI221 PC Stick
ZBOX PI220 PC Stick
ZBOX PI330 pico Mini PC
ZBOX CI543 nano Mini PC
SONIX 480GB PCIE SSD
GeForce® GTX 1070 AMP Edition
GeForce® GTX 1060 Mini
GeForce® GTX 1060 AMP Edition
Don't have a meetup.com account? That's ok, RSVP at Eventbrite here. http://bit.ly/2a9Zw5m ;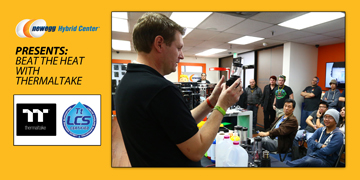 Beat the Heat with Thermaltake
City of Industry, California, July 30, 2016:
Liquid cooling is one of the most popular developments for PC gamers. If you are looking to liquid cool your PC, but have questions on the process, get hands-on training with Thermaltake at the Newegg Hybrid Center. The seminar covers AIO solutions, custom-loop liquid cooling builds, PETG (Hard Tube) bending techniques and more!
Join us at the LA Newegg Hybrid Center on Saturday July 30 starting at 10 a.m. We will have multiple stations for demonstrations on how to build LCS systems. Ask questions and get answers from the experts. Dive in with hands-on training and get familiar with the benefits of building a liquid-cooled PC.
Schedule:
10 a.m.: Introduction to LCS
11 a.m.: Building your first LCS PC
Noon: Custom loop building with Hands-on training
1 – 2 p.m.: LUNCH
2 p.m.: Hard Tube Workshop w/ Q&A
3 – 5 p.m.: Hard tube how to demo (Live Stream)

During the workshop, we will have VR demos (Sponsored by Zotac) and Q&A on what it takes to be VR ready. Check out the latest hardware pro gamers use to power today's demanding games.
For those of you who can't make it. We will be having a live stream session from 3-5 p.m. on our YouTube live channel:
https://www.youtube.com/user/newegg
All attendees go home with swag bags and a 20% discount code for all Thermaltake products on Newegg.com. There will be a raffle for people in the Hybrid Center and a special giveaway for streamers watching the live coverage!
Attendees who RSVP with their system and buy Thermaltake water cooling kits will be able to get hands-on support for their builds. Buy today and build with the best!
Buy these Super Combo bundles and pick up at the Hybrid Center to build a PC during the workshop. We have slots in the workshop for attendees looking to get 1-to-1 experience putting a computer together or setting up a custom water cooling system. We will cover the basics of components, form factors, functionality, how to decide the next component upgrade and, of course, how to install it. All you need to get into PC gaming. No purchase is required to attend.
Bundles:
A Quality Full Solution Build To Meet All Your Gaming Needs - http://bit.ly/28WOvXX
Be Efficient and Upgrade to Intel - http://bit.ly/2960sXu
An Everyday PC Meant for Everyone - http://bit.ly/28Z0cvR
Feel The Gaming Power and Let Your System Take Over - http://bit.ly/28WWv9M
Powerful Office Machine! Limited-Time Savings! - http://bit.ly/28XhF9H
SuperCombo i5 System Savings! Limited-Time Savings! - http://bit.ly/28SlerW
Note: If you are intending to participate in the PC building process with your own parts, please leave a comment on the Meetup.com group page so we can schedule accordingly and know when we've reached our cap on available space.
Don't have a meetup.com account? That's ok, RSVP at Eventbrite here. http://bit.ly/2axeCpg
Newegg Canada Hybrid Centre Grand Opening
Richmond Hill, Ontario, July 15, 2016: We are proud to announce the Grand Opening of our Newegg Hybrid Centre.
At the Hybrid Centre customers can see, touch and feel the future. We are privileged to work with the best hi-tech partners in order to showcase the latest and greatest tech. The Hybrid Centre is also a place for meetups, featuring a variety of events including e-sport tournaments, DIY computer building classes and new product launches aimed to help everyone enjoy the latest technology.
The Hybrid Centre's Grand Opening will be at 1:00 p.m. (EST) Friday, July 15, 2016 till 7:00 p.m.
Come out and experience virtual reality gaming and watch or participate in the first Newegg Toronto Speed Building Contest. The first 200 visitors will receive a commemorative Newegg Hybrid Centre T-Shirt and chance to win a door prize.
Don't miss this opportunity to experience the Hybrid Centre.
Newegg Hybrid Centre
55 East Beaver Creek Road, Unit E and F (Front of building)
Richmond Hill, Ontario L4B 1E8