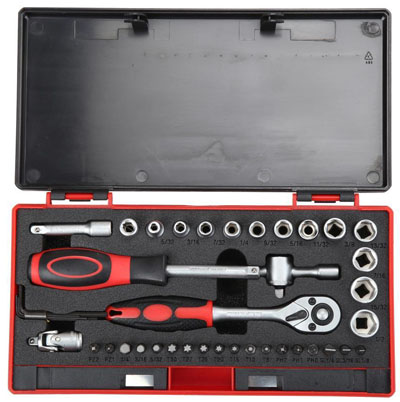 Rosewill RTK-043 43-PieceTool Set
The Rosewill RTK-043 packs all the tools needed for home or office repair & maintenance in a plastic case. Each is placed inside a dedicated slot to keep them orderly organized. They are constructed to be tough and to enable easy control in any exacting application.
An All-inclusive Set
The tool set includes ratchet handle, adapter, spinner, bits of different kinds and sizes, sockets and hex keys of different sizes, and more.
Durability and Strength
The tool set meets or exceeds ANSI standards for sockets and ratchets. Made from heavy-duty chrome-vanadium steel, the tools can be used for demanding applications.
Non-slip Grip
The handles have non-slip grip to ensure easy control in high-torque applications.
Easy Transport
A quality plastic case keeps all pieces protected and neatly organized, making storage and transport a breeze.