Feature Products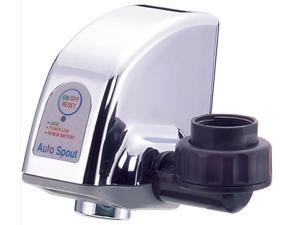 Global seller enrolled in Newegg Return Service. Newegg will be responsible for processing RMA and general customer service.
Auto Spout is one of the Taiwan No. 1 Products, and factory has at least 15 years experience to research and improve on it. During the time, it is recognized by "Water Conservation Testing Lab" at Industrial Technology Research Institute of Taiwan, and approved by CE, RoHS, JIS, and ACS. Auto Spout has its patents in Taiwan, China, and Japan.

Now it's high and safe quality reassure USA's consumers. Users can do it very easily and quickly by themselves to make their house faucets to be an automatic faucets (by intelligent sensor system). And that would be more efficient for your water resource conservation and keep family from bacterial infection.

Even though house faucets without threads, they can use the auxiliary fitting "with 3 screws-adaptor to screw onto house faucets" to completely install the add-on auto spout's adaptor.

We all support our customers, if any questions, please write e-mail to us.
To rate this seller or report a problem, please use the link provided in the order confirmation email or the