Server Motherboard Buying Guide
Table of contents
As the backbone of a computer, the motherboard (sometimes called a system board or mainboard) connects all system components and allows them to interact. The motherboard also determines the major characteristics of a system, and affects your choice of CPU, memory. and expansion capabilities. Different motherboards are designed for different applications, but our focus here will be on motherboards designed for server systems.

A server is a type of computer that coordinates and works with other computers over a network. Servers can be built from common computer components, but specialized hardware is recommended for heavy-load/critical applications. A workstation, on the other hand, is a high performance computer designed for intensive single-user applications such as 3D design/creation, video processing and engineering simulations. This is very different from a server. A server/workstation motherboard can be similar to a desktop motherboard in many ways, but may require different structure or functions.

Note: The server/workstation we refer to here are mainly for personal/home/small business users who may elect to build a server/workstation on their own.


The Vitals of a Server Motherboard
A motherboard includes a variety of components that define its capabilities. Selecting the motherboard that is perfect for all your needs can be a complicated process. The two issues that require the closest attention when choosing a motherboard are:
1. The chipset, which determines the functionality, compatibility and connectivity of a motherboard, and
2. The CPU and memory support. Motherboard, CPU and memory should be considered as a whole when building a server system, since they are closely related to each other. Your choice of any one of them will affect your options for the other two.

Chipset
The chipset is the core of the motherboard. A motherboard's CPU and memory support, major I/O device support and expansion card support all depend on the chipset. When building a server/workstation, the chipset, processor and memory should be considered as a whole. The server/workstation platforms and products we mention here are geared towards personal/home/small business users, who may choose to build a server/workstation on their own. Therefore, the chipset information provided here is only a portion of the full range of server/workstation chipset products available on the market.

Traditionally, the term "chipset" (sometimes called core logic) often refers to the two main chips on the motherboard: the Northbridge and the Southbridge. The Northbridge often refers to the chip that handles communications between the CPU, memory, AGP or PCI Express and the Southbridge. The Northbridge often includes the memory controller. The Southbridge provides connections to I/O devices, such as the PCI bus, USB, PATA, SATA and PCI Express devices. Other Southbridge functions include interrupt controller, real time clock, power management (ACPI and APM), SMBus and so on. Southbridge chips are usually connected to Northbridge chips. Motherboards often include other types of chips to provide additional functions, such as SCSI controller, PCI-X controller/hub and network controller chips.

The words "Northbridge" and "Southbridge" are older, but still sometimes used terms for today's server/workstation chipsets, but the functions are similar. For example, MCH (Memory Controller Hub) and ICH (I/O Controller Hub) from Intel are essentially equivalent to "Northbridge" and "Southbridge" in function.
CPU Support
There are two concerns when it comes to CPU support: CPU type and count. For both AMD and Intel platform motherboards (compatible only with AMD or Intel processors respectively), the CPU socket type is required to match the motherboard's CPU socket for proper installation. For example, an LGA 771 CPU must be installed on an LGA 771 motherboard. LGA 775, Socket 603/604 and LGA 771 are Intel-compatible socket types, while Socket 939, Socket AM2, Socket 940 and Socket F (Socket 1207) are AMD-compatible socket types.

The chipset is equal in importance to CPU support - the selected motherboard must feature a chipset that will support the CPU you have chosen.

Server systems require a lot of processing power to deal with heavy data requests or processing loads, so multiple CPU support is an important feature that make a good deal of sense for certain users, since more CPUs boost the processing power available. There are many server motherboards that feature more than one CPU socket, and dual CPU socket motherboards are currently the most popular in personal/home/small business domains. Of course, there are also quad socket motherboards provided for the most demanding users.

Multiple-core (dual-core, quad-core or more) CPUs are currently gaining in popularity. These CPUs are able to deliver much higher processing power over their single-core predecessors and are similar in concept to the multi CPU motherboard. You may choose to pair these multi-core CPUs on a dual socket motherboard and enjoy even higher levels of performance!
Memory Support
The Northbridge chip traditionally contained the memory controller, meaning that memory support - defined by memory type, memory channels, memory speed and memory capacity - was determined by the chipset. However, for AMD Opteron processors, the memory controller is integrated into the CPU. Therefore, the CPU, not the chipset determines the memory support on modern AMD platforms.

Memory capacity is vital to a server, so please be sure there are enough memory slots on the motherboard to meet your performance demands. In addition, please pay special attention to the motherboard's ECC and registered memory support, which are features critical to servers.

ECC
As the name "Error Checking and Correction" suggests, ECC technology allows computers to correct memory errors. The most popular type of ECC is single bit error correction. This enables the detection and correction of single-bit errors (within a byte, or 8bits of data).

Chipkill is an advanced ECC memory technology developed by IBM. Chipkill technology distributes the bits of an ECC word across multiple memory chips, thus a single memory chip failure will only affect one ECC bit out of an ECC word. Chipkill thus allows memory data to be reconstructed in the event of a memory chip failure or multi-bit data errors from a single memory chip.

Registered Memory
With increasing system memory, the stability and performance deterioration of unbuffered memory is inevitable - the memory controller has to address each memory chip on all modules directly, which results in high electrical loads. To solve this problem, higher density systems use registered memory instead. Registered memory modules contain registers as a buffer to temporarily hold data (address and command data only) for one clock cycle before it is transferred. This increases the reliability of high-speed data access to high density memory but sacrifices some performance since there is one additional clock cycle between the Chip Select and the Bank Activate command.

Besides the popular DDR and DDR2 memory modules, there is a new type of memory called FB-DIMM, which is utilized by some of the latest Intel server platforms.

Fully Buffered DIMM or FB-DIMM technology aims to increase reliability, bandwidth and density of the memory system. FB-DIMM architecture introduces Advanced Memory Buffer (AMB) between the memory controller and DRAM chips. The interface between AMB and DRAM chips supports DDR2 today, and will support DDR3 in the future. This is the same as common memory modules. But unlike the parallel interface utilized by traditional memory modules, the interface between memory controller and the AMB of FB-DIMM memory is a point-to-point serial bus.

FB-DIMM technology brings excellent scalability and throughput - up to 192GB capacity, 6 channels and 6.7GB/s bandwidth per channel. Compared to the 240 pins per channel of current DRAM modules, FB-DIMM only has a pin count of 69 per channel. This makes board layouts significantly easier to design and reduces costs tremendously.


Things to Look For When Choosing a Server Motherboard
Although the process of choosing a motherboard is complicated due to the various functions and connections motherboards provide, it can become much easier to find one that meets your requirements once we know what to look for.
Graphics Support
Since there aren't any intensive graphics/3D requirements in server applications, most server motherboards use an onboard graphics controller to provide video signals to the administrator's monitor.

Workstation motherboards are quite different. Many workstation systems need powerful 3D acceleration, or even multi-display support, so the workstation motherboard should provide an expansion slot/interface for a video card. The PCI Express x16 slot (shown image below) is the most popular video card interface today.

Expansion Slots
Expansion slots are used to install add-in cards such as network interface cards and HDD/RAID cards. This is very important to the expandability of server systems. Please make sure the motherboard selected provides sufficient expansion slots for all the add-in cards you plan to install.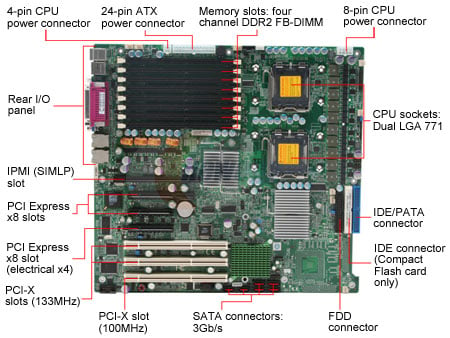 There are three types of expansion slots on modern motherboards:
PCI
The PCI (Peripheral Component Interconnect) bus is a computer bus type used to connect computer peripherals. Most PCI buses work at 33MHz with a 32bit bit-width. This allows it to deliver a bandwidth of 133MB/s. 64-bit/66MHz PCI slots can also be found in server/workstation systems.

PCI-X
PCI-X was introduced to address the need for increased bandwidth of PCI devices. The PCI-X specification enables higher operating frequency (66MHz, 133MHz, 266MHz and even 533MHz) with up to 64-bit bit-width to deliver more than 1066MB/s bandwidth. PCI-X protocol enhancements allow devices to operate at much higher efficiency to provide more useable bandwidth at any clock frequency.

PCI Express
PCI Express is the next generation computer bus to come after PCI/AGP. PCI Express comes in several physical configurations to offer a variety of maximum bandwidths. For example, the fastest PCI Express x16 (first generation) configuration is used mainly for graphics cards and provides up to 8GB/s (bi-directional) bandwidth, or 4 times the bandwidth of AGP 8X. At the other end of the spectrum, PCI Express x1 is typically used for other types of peripherals and offers up to 500MB/s (bi-directional) bandwidth. The latest PCI Express 2.0 specification doubles the bandwidth by delivering up to 1GB/s (bi-directional) bandwidth over an x1 link.

Also note that there are different specification PCI Express add-on cards and that they must be installed into the corresponding slots. For example, a PCI Express x1 card should be installed into a PCI Express x1 slot (it can work in x4/x8 slots, but still run in x1 mode).

SAS/SATA/SCSI Device Ports
In server systems, SCSI is the most popular interface for storage devices, like hard drives. SCSI (Small Computer System Interface) is a standard for transferring data between devices and computers. Thanks to its outstanding ability to compartmentalize diverse operations, SCSI is very suitable for multitasking operating environments. SCSI also enhances critical performance in situations where more than one device is connected. Before serial signaling technology was applied into the SCSI field, all SCSI interface standards used parallel technology to transfer data. Currently, Ultra-160 (160MB/s throughput) and Ultra-320 (320MB/s throughput) are the most widely used standards of parallel SCSI.

The latest SAS or Serial Attached SCSI is earmarked as the next-generation enterprise storage interface to replace parallel SCSI. SAS utilizes serial communication protocol for high bandwidth and throughput performance in corporate and enterprise applications. SAS currently provides up to 300MB/s throughput, and supports hot-swapping as well. SAS is also physical compatible with SATA or Serial ATA, which can also be found on many server motherboards.

As an addition/expansion to the Southbridge chipset, some manufacturers integrate additional hard drive controllers onto certain motherboards to provide more SAS/SATA/SCSI connections. Some of these controllers support RAID functions as well.

Please choose a motherboard that provides onboard storage interfaces that suit your requirements most closely. You can expand the storage device support later by adding HDD/RAID controller cards to your system in the future.

RAID
Certain Southbridge chipsets feature RAID support. RAID (Redundant Array of Independent/Inexpensive Disks) is a way of using multiple hard drives together for data storage. A RAID system with multiple hard drives appears as a single drive to the operating system. Depending on the RAID level, the benefits provided by RAID is one or more of the following: better throughput, fault-tolerance or capacity when compared to a single hard drive.
1. RAID level 0 (or RAID 0) is known as striping, where data is striped across multiple hard drives. RAID 0 provides the most advanced throughput and capacity, but offers no fault-tolerance.
2. RAID level 1 (RAID 1) is known as mirroring, which stores the exact same data within at least two hard drives, this method shows excellent fault-tolerance and reliability, but delivers less capacity efficiency.
3. RAID level 0+1 and RAID 1+0 are striping and mirroring, providing good fault-tolerance and throughput all at the same time.
4. RAID level 5 utilizes data block striping with distributed parity data blocks across all the array disks. RAID 5 provides excellent read performance but relatively poor write performance, and RAID 5 is able to recover the whole array when one of its array disks fails. But the failure of a second disk results in data loss.
5. RAID level 6 is an extension of RAID 5 - it adds an additional parity block for extra fault-tolerance. RAID 6 is able to recover the array when two disks fail.
There are other RAID levels available too, such as RAID level 3 and RAID level 4, which are not widely used at the current time.
Other Connections
PS/2
PS/2 ports connect the keyboard and mouse to a computer and are usually color-coded on today's systems - purple for keyboards and green for mice. Most desktop motherboards still provide PS/2 ports, but an increasing number of keyboards and mice are using USB ports.

USB (Universal Serial Bus)
The USB port is the most popular I/O interface standard used for connecting computers and peripherals or other devices. It is capable of supporting up to 127 daisy-chained peripheral devices simultaneously. The latest USB 2.0 specification can deliver 480Mbps data transfer bandwidth.

IEEE 1394
Also known by the trademarked names of FireWire and i.LINK, IEEE 1394 is a standard for high-speed transfer of digital information. It is one of the most popular standards for connecting high-speed peripherals.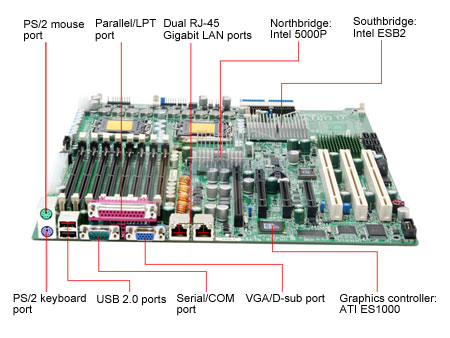 LAN/ Networking
Almost all of the latest server motherboards provide integrated LAN functions, rated either at 10/100Mbps or 10/100/1000Mbps, since every server has to connect to a network. These numbers show the theoretical maximum throughput of the network interface card (onboard LAN controllers in this instance). Some motherboards provide two or even more LAN ports for users connecting more than one network device without needing an add-in card.

Note: If the LAN controller is connected to the motherboard PCI bus, it will not be able to deliver the full 1000Mbps speed due to the bandwidth limitation (133MB/s) of the PCI bus.

Management Features
The IPMI (Intelligent Platform Management Interface) is one of the hottest management features available at this time. IPMI specifications define common interfaces to the platform management subsystem, which is used to monitor system health and manage the system. Typical monitoring elements include system voltages, temperatures, fans, power supplies, etc. IPMI includes the definition of interfaces for extending platform management between motherboards within the main chassis, and between multiple chassis.

IPMI operates independently of the operating system, thus administrators can remotely manage a system without the OS or the system management software, or even when the system is powered off.


As mentioned above, we definitely recommend considering the entire platform as a unit when building a server system, and the platform should at least include CPU, the memory and motherboard. Since there are a lot of issues or factors to consider when choosing a motherboard, it is almost impossible to provide specific recommendations to meet the infinitely varied requirements. Please read the above sections of this buying guide to be sure of your own requirements.

At last, we suggest paying extra attention to memory support and expansion slots when choosing your server motherboard. For memory support, ECC is definitely a necessity - and most server motherboards do support ECC. Registered memory support is also important if you plan to install more than 4GB memory to your server. However, when it comes to FB-DIMM, registered memory is no longer an issue as FB-DIMM memory modules are fully buffered - unlike unbuffered DDR/DDR2 memory modules. Memory capacity is another vital issue for server systems, so make sure there are enough memory slots available on the motherboard, and the motherboard supports the capacity you need or may need in the future.

Expansion slots on a server motherboard are usually meant for the installation of HDD/RAID controller cards or Multi-port Gigabyte Ethernet network interface cards. These cards consume extremely high bandwidth/throughput, therefore, the motherboard selected must provide enough high-throughput expansion slots - such as 64-bit/66MHz PCI slots, 66MHz/100MHz/133MHz PCI-X slots and PCI Express x4/x8 slots for expansion.


Buy Server Motherboards at Newegg.com