Introduction to HDMI
Table of contents

Developed by Sony, Hitachi, Thomson (RCA), Philips, Matsushita (Panasonic), Toshiba and Silicon Image, the High-Definition Multimedia Interface (HDMI) is becoming the connection standard for High-Definition consumer electronics products. The HDMI adopters and HDMI market share have seen explosive growth in recent years. Almost all the latest HD components, such as LCD TVs, plasma TVs, A/V receivers, set-top boxes and Blu-ray Disc/HD DVD players, embrace HDMI. Interested in knowing more about HDMI technology? Let's find out together.
HDMI or High-Definition Multimedia Interface, is the de facto digital interface standard for connecting HD consumer electronics components. HDMI combines uncompressed high-definition video, multi-channel uncompressed/compressed audio and intelligent format and command data in a single digital interface. HDMI is compatible with HDCP or High-bandwidth Digital Content Protection, which is a content protection technology developed by Intel to be used when distributing premium HD content. Without HDCP support, the protected content will be displayed in reduced quality or a black screen will appear. All HD cable and satellite set-top boxes require HDCP for HDMI connection.
| | |
| --- | --- |
| | |
| HDMI interface | HDMI cable |
HDMI is fully backward compatible with single-link DVI and electrically compatible with all DVI-D signals. However, standard DVI-D does not provide audio or CEC (Consumer Electronic Control) signals. Therefore, you can only get video signals when using DVI-to-HDMI adapters/cables or HDMI-to-DVI adapters/cables to connect between HDMI and DVI devices.

Note: Some specially designed devices, such as ATI Radeon HD 2000 series video cards, can provide both video and audio signals to HDMI through DVI port.
| | |
| --- | --- |
| | |
| HDMI-to-DVI cable | HDMI-to-DVI adapter |
HDMI provides the most incredible audio and video experience that the Consumer Electronics industry has ever known, and enjoys a number of advantages over legacy interconnect technologies. As an all-digital interface, HDMI delivers bit-for-bit video and audio with the highest quality. The "one-cable" solution for both audio and video dramatically simplifies home theater system installation and eliminates the cable quagmire typically associated with home theater system components. Besides, with support for automatic setup and one-touch control, the built-in intelligence makes HDMI even more attractive.

The latest HDMI 1.3 provides up to 10.2Gbit/s bandwidth for high-quality video and audio transmissions. HDMI supports video signals from 480i/480p all the way up to 1080i/1080p and even higher 1440p. Up to 120Hz refresh rates and 48-bit color resolutions are offered by HDMI 1.3 for unprecedented video quality. HDMI also includes support for 8-channel uncompressed 24-bit 192 KHz digital audio as well as compressed audio streams such as Dolby Digital and DTS. HDMI supports up to 8 channels of 1-bit audio, as used on Super Audio CDs. With version 1.3, HDMI now also supports lossless compressed audio streams such as Dolby TrueHD and DTS-HD Master Audio.


HDMI devices are manufactured to comply with various versions of the HDMI specification, each version of which is given a revision number. Same HDMI cables are used for each concurrent version of the specification, but the throughput and/or capabilities of what can be transmitted over the cables are increased as the version number goes higher. Therefore, it is important to get the proper HDMI cable that is able to handle the bandwidth you need. For example, to make full use of HDMI 1.3, you will need an HDMI cable capable of dealing with 10.2Gbps bandwidth.

Below is the comparison table of major HDMI versions. Note that HDMI 1.2a and HDMI 1.3a versions are not listed below. The latest HDMI version is 1.3b as of 26 March 2007.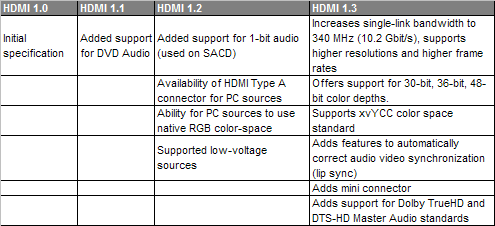 Note: Some of the features are optional. For example, in HDMI 1.3, it is optional to support the xvYCC color space. That is to say, you have to make sure the device supports both HDMI 1.3 and the xvYCC color space if you really need this feature.
HDMI-enabled components include source equipments such as DVD players, tuners, set-top boxes, PVRs, media PCs, camcorders, gaming consoles and digital still cameras, as well as display equipments like high-definition TVs, projectors and PC monitors. HDMI repeaters/splitters, A/V receivers, switches and distribution boxes are also available on market.
HDMI splitter
HDMI splitters provide more HDMI outputs than inputs, while HDMI switches offer more HDMI inputs than outputs.
HDMI switch

Buy LCD TV at Newegg.com