Get ready to hit the water with the Intex Seahawk two-person inflatable boat! High-quality construction enables it to support weights up to 440lbs (200kgs), and ensures the maximum durability in most water conditions. The inflatable "I"-beam floor provides the maximum comfort and rigidity. Thanks to the quick-filling, fast-deflating Boston valves and the included high-output hand pump, inflation couldn't be easier. In addition, this boat also comes with two fishing rod holders for a lazy day on the lake, and includes oar locks and oar holders to make rowing a breeze. The durable nylon carrying bag allows you to take the boat with you anywhere.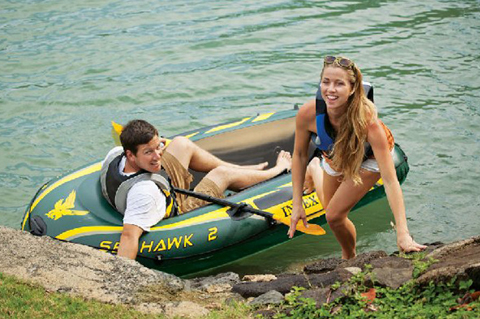 Easy to inflate This inflatable boat features three air chambers, including an inner auxiliary chamber inside the main hull for extra buoyancy, and offers Boston valves for quick inflation and fast deflation. Simply use the high-output hand pump to quickly inflate the two chambers, and then you'll get enough buoyancy for your water activities.
Quality construction Made of super-tough vinyl that is unaffected by gasoline, oil, or salt water, this inflatable boat is durable enough to handle rugged river waters, and is highly resistant to damage from abrasion, impact, and sunlight.
Easy to carry After a great day out on the water, use the grab line (on either end) to tow the kayak out of the water. Deflate it speedily with the Boston valve, and then roll it up into the durable nylon carrying bag for easy storage.
Warranty, Returns, And Additional Information