The Wireless Weather Station Set by La Crosse Technology quickly gives you information about the weather and indoor & outdoor temperatures. Clock function and alarm function are also integrated. It includes a Temperature Station, and an outdoor temperature transmitter TX37U-IT. They both support wall-mounting and table-standing installation.
The outdoor temperature transmitter is armed with rain-resistant casing, withstanding outdoor rigors. It transmits data of outdoor temperature to the temperature station wirelessly at the frequency of 915 MHz. The Temperature Station with a large screen displays all the information you needs – current time, weather forecast, indoor/outdoor temperature, snooze alarm and more. Its function keys (set key, + key, alarm key, and MIN/MAX reset key) at the bottom of the temperature station enables you to easily set/adjust it.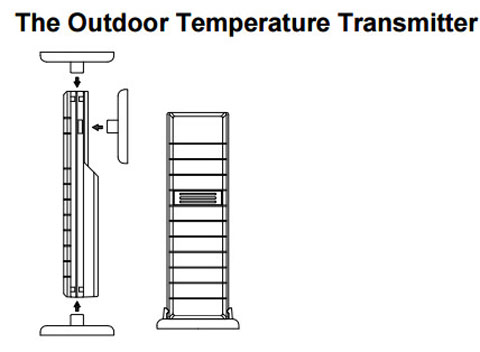 Wireless outdoor temperature transmitter The included outdoor temperature transmitter offers a wireless operation range of up to 330 feet. With a reliable 915 MHz transmission frequency, it quickly transmits outdoor temperature information to the Temperature Station – no any signal delay*. Its rain-resistant casing endures the harsh conditions outdoors. It runs on two AA batteries. (*When the outdoor signal is successfully received by the Temperature Station, this icon will be switched on.)
Weather forecasting function Three vivid weather icons, along with a barometric pressure arrow, inform you of what weather will be like.
User-friendly display On top of the weather information, the large, easy-to-read LCD screen also clearly displays time, and indoor & outdoor temperatures. All the information helps you with planning your day ahead of time. The function keys at the bottom of the unit let you easily make adjustment for various settings, stop alarm, reset MIN/MAX records, and more.
Flexible installation solution The Temperature Station can be hung on a wall via the hanging hole in the back, or propped up on a table with its foldout stand. The transmitter also allows for wall mounting or table-standing installation.
Warranty, Returns, And Additional Information