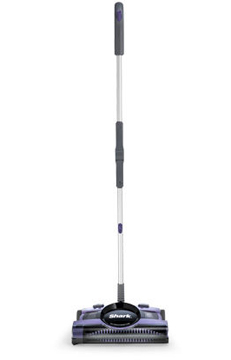 Shark® Cordless Floor & Carpet Sweeper
Motorized cordless floor and carpet sweeper with BACKSAVER™ handle.
Details
Powered by a 13-inch brush roll, this portable device is loaded with features to whisk up debris of all types and sizes. Plus, thanks to its 2 speed settings, the Shark® Cordless Floor and Carpet Sweeper is effective on hard floors and carpets. And with great maneuverability, the Shark® Backsaver™ handle, and a no-touch, easy to empty dust cup, there's no question this Shark® makes it a cinch to sweep.
The Shark® Backsaver™
Folding pole to help reach under furniture and tight spaces
No-Touch Dust Cup
Easy to empty with the push of a button
2 Speed Floor & Carpet Power Settings
Optimized speeds for all of your cleaning needs
Edge Cleaning Squeegee Bar
Sweeps out crevices along baseboards and up close to walls