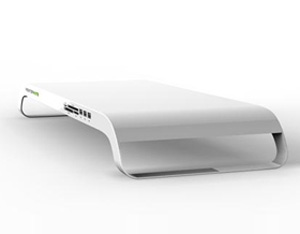 Card support: SD/MMC + Smart Card + CompactFlash
Dimensions: 23 1/4in. x 8 1/4in. x 2 1/3in. (590mm x 210mm x 68mm)
USB Hub: three USB 3.0 ; two USB 2.0
Keyboard stowing capacity (W x H): 18 9/10in. x 1 1/2in. (480mm by 40mm)
Available in Your Choice of Three Colors
Weight: 4.4lbs (2.0kg)
Material: SECC
Load-bearing capacity: 66lb (30kg)
Power Adaptor: 100V - 240V input / 5VDC output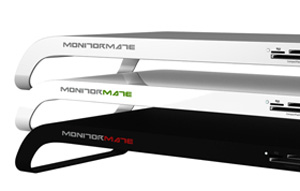 Joyfully Curved Shape
MONITORMATE designers engineered two unique stands on both sides with elegant curves. To support the weight of a monitor, 1mm of a special steel is chosen to build the brand new MONITORMATE Ultra3.0 - it's stronger, sturdier and even more beautiful.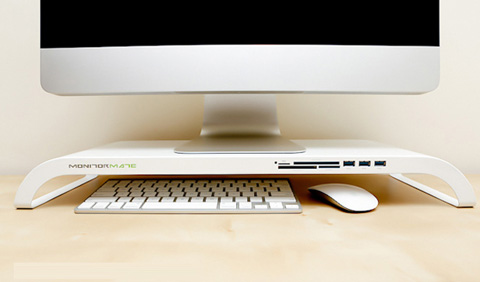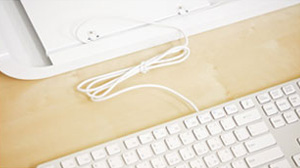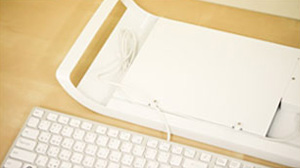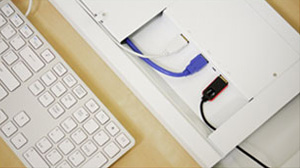 Clever Cable Storage Design
There is more space than you can see under the platform. While creating the MONITORMATE, designers came up with an ingenious idea to have a part of the platform hollowed out for cable management. All kinds of cables from mice, keyboards, mobile phone chargers to iPad transmission cables can be stored underneath, and you get your clean desktop back!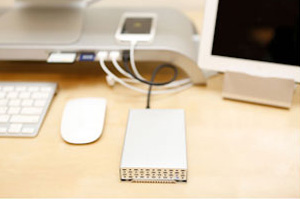 Powerful Built-in Card Reader
The memory processing chip with the highest industrial compatibility was selected for Ultra 3.0. The card reader provides support for multiplexing, allowing access to SDHC 64GB memory cards. Ultra 3.0 is provided with multiple memory card slots for SD, Micro SD, CF cards and Smart Cards. With Smart Cards reader, the Ultra 3.0 becomes your portable ATM machine, allowing you to shop from the comfort of your home using online ATM transactions.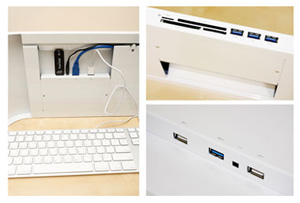 Ultra-Fast USB 3.0 Hub
The brand new Ultra 3.0 is equipped with USB 3.0 interface which provides a transmission rate of up to 5Gbps. Three high-speed USB 3.0 ports are located in the front of the platform and two USB 2.0 ports in the rear. The five USB ports are more than enough to accommodate most users' needs. The additional AC power supply provides stable current for external USB devices.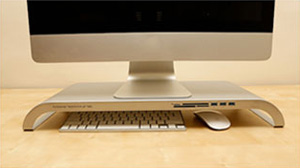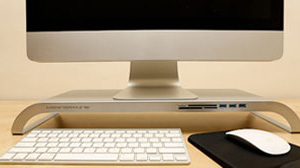 Convenient Keyboard Storage Space
MONITORMATE Multifunctional Expansion Platform is the perfect partner for your messy desktop. The monitor goes on top of the platform, while the extra space underneath is perfect for putting away the keyboard and mouse. When you don't need to use the keyboard and mouse, just push them forward and underneath the platform. The maximum storage space is 18 9/10in. x 1 1/2in. (480mm by 40mm)(W x H). The USB ports are retracted back underneath the platform, so the platform can be placed against a vertical surface.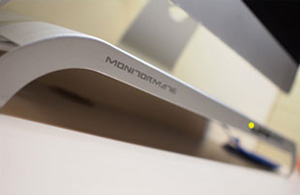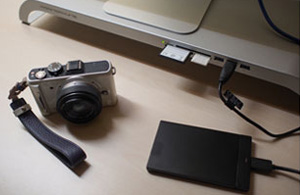 Product Features
Transfer rate up to 5Gbps with USB 3.0
External power supply included
Cable management support
Supports XP, Vista, 7/8; Mac V 10.4.8 or later
Supports up to 64GB Memory Cards
Supports SDHC, high capacity memory card