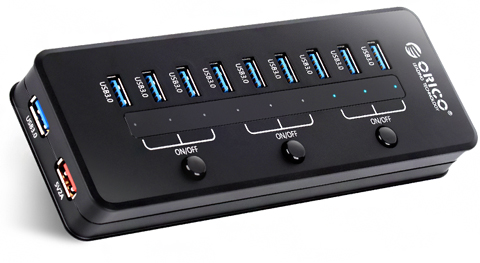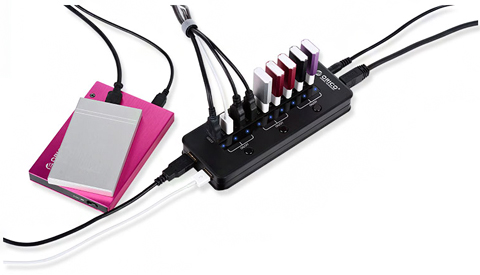 Ten-Port Super Speed USB 3.0 Hub

With three third-generation, fully-integrated VL812 USB 3.0 Hub Controller from Via-Labs, the ORICO H10C1-U3 adds ten Super Speed USB 3.0 ports. Connect up to 10 USB 3.0 or USB 2.0 devices through a Single USB Host.
VL812 USB 3.0 Controller provides maximum compatibility and performance - compatible with any USB 3.0, USB 2.0, USB 1.1 or USB 1.0 device, and any USB on Windows, Macintosh or Linux Systems. Super speed USB 3.0 high-throughput ports offer transfer rates up to 5Gbps - 10 times faster than USB 2.0 and backwards compatible with USB 2.0, 1.1, 1.0.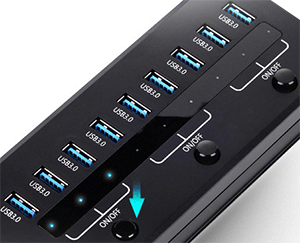 Three On/Off Switches

ORICO H10C1-U3 is equipped with three On/Off Switches. Each ON/OFF Switch can turn ON or OFF specified USB 3.0 ports on the top. Turn on specified devices you need to use and turn OFF specified devices while you don't need them - this will help save power, protect devices, etc. The LED Indicator on each USB port will turn ON when the port is ON and let you know if connected devices are working or not.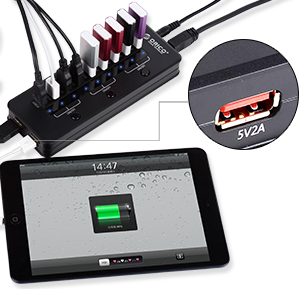 Additional 5V, 2.1-Amp Charger

A Rapid Charger will charge your iPad, iPhone and most Phones and Tablets while another 10 devices sync through USB 3.0 ports. Charger delivers power at 5V, 2.1 Amps (Max.) to provide Rapid charging.

Note: Some models of Samsung Tablets can charge via the original charger only and cannot be charged by this item. Charge Samsung Tablets via original charger. Please Contact ORICO Customer Care Team if you encounter any issues about charging.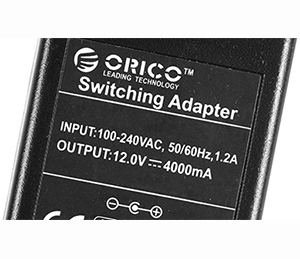 Comes with 12V, Four-Amp Power Adapter

12V, 4-Amp Power Adapter delivers power for the 10 USB 3.0 Host and 5V, 2.1-Amp Charger. Charge tablets, etc., while access to high-power required external hard drives and more.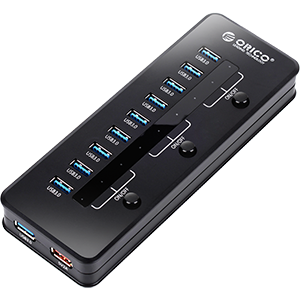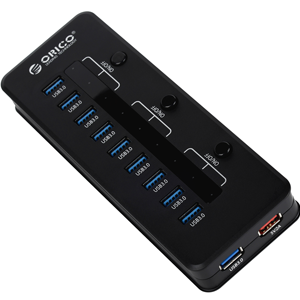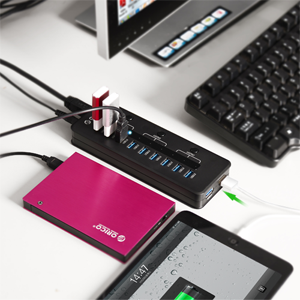 Specifications
| | |
| --- | --- |
| Item # | ORICO H10C1-U3 |
| Description | USB 3.0 10-Port HUB with 5V, 2.1A Charger and three ON/OFF Switches |
| Transfer Rates | USB 3.0 5Gbps (Backward Compatible with USB 2.0, 1.1, 1.0) |
| USB Ports | Ten USB 3.0 |
| Additional Ports | One 5V, 2.1-Amp Charger |
| Feature | Three Sets On/Off Switches | Each switch controls three USB 3.0 Ports |
| Power Input | 12V, 4 Amps |
| Cable | 3.3 Ft. USB 3.0 Cable (Type A Male to Type B Male) |
| LED Indicators | Power and Activity |
| Chassis | Plastic |
| Color | Black |
What's in the Box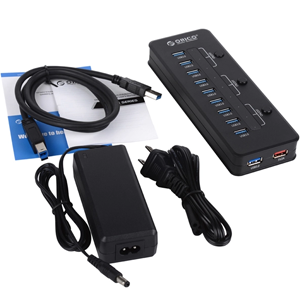 ORICO H10C1-U3
Power Cord
Power Adapter
USB 3.0 Cable
User's Manual
Service Card