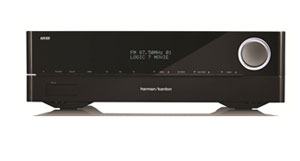 Harman Kardon AVR 1710

With this many connectivity options, you may need more devices!
With six HDMI inputs, AirPlay, and HARMAN TrueStream Bluetooth technology, this high-performance, 7.2-channel, networked AVR gives you more ways to connect to the things you love. Rich, enveloping Harman Kardon sound delivers up to 700 Watts of high-fidelity audio from any source, even two-channel and streaming.
---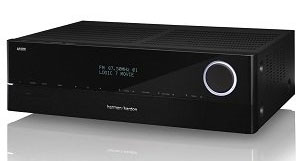 Harman Kardon AVR 1710 at a Glance:

100W x 7-channel amplifiers with high-performance digital power supply
Apple AirPlay, Bluetooth and DLNA 1.5 technology
HARMAN TrueStream technology
Six 3D-ready HDMI inputs, including one with MHL
Dual subwoofer outputs
Multiroom system with audio output and assignable amplifier
Front-panel USB port
Dolby TrueHD and DTS-HD Master Audio decoding
EzSet/EQ III auto-calibration
---
---
Integrated Green Edge technology
The HARMAN GreenEdge logo assures you that the AVR 1710 is designed for the environment without compromising the premium performance for which HARMAN products are known. Thanks to an advanced power supply, the AVR 1710 can deliver high-quality audio in a smaller, lighter chassis that uses less metal and plastic. The smaller design means that less fuel is used in transportation, with the end result being a lower carbon footprint.
Seven 100-Watt-per-Channel Amplifiers with High-Performance Digital Power Supply
The AVR 1710 high-performance audio/video receiver pumps out 100 Watts per channel to power a full seven-channel surround-sound system. It can also connect to two powered subwoofers to provide enhanced low-frequency performance for all your entertainment. While the amplifier retains the time-tested, high-current-capacity (HCC), ultrawide-bandwidth Harman Kardon design to ensure the most accurate, dynamic sound with enhanced clarity and realism – even at the highest listening levels – a digitally based power supply gives the amplifiers all the muscle they need without the weight of traditional power-supply designs and their heavy transformers. The net result is a great-sounding AVR in a small form factor that's friendly to the environment.
Apple AirPlay, Bluetooth and DLNA 1.5 Technology
The AVR 1710 can stream audio from virtually any portable device. For Apple devices, such as computers and the iPad, iPhone and iPod touch, you can stream using the receiver's built-in AirPlay technology. (AirPlay, vTuner and DLNA connections require a wired connection to a broadband network.) For other tablets, smartphones and laptops, you can take advantage of the AVR 1710's integrated HARMAN TrueStream Bluetooth technology. A USB port is included on the front of the AVR so you can connect devices directly without an external adapter or a wireless connection. The AVR is also DLNA 1.5 compliant, which gives you multiple options for delivering content over your home network.
---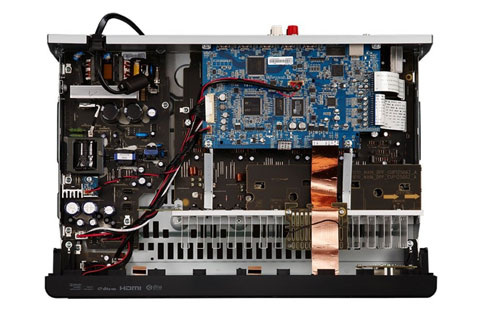 HARMAN TrueStream Technology
The HARMAN TrueStream guarantee ensures the best possible listening experience when you stream audio wirelessly via Bluetooth technology. HARMAN TrueStream tech selects the most current, most advanced wireless option to ensure the highest-quality sound, no matter what application or source device you use.
Six 3D-Ready HDMI Inputs, Including Mobile High-Definition Link (MHL)
Six HDMI inputs with 3D and 30/36-bit Deep Color deliver high-definition digital video at resolutions up to 1080p with full-fidelity audio through a single cable. There is no loss of video or audio quality because of format conversion, just full-impact Hollywood excitement as its creators meant you to experience it. And with the AVR's MHL, you can deliver high-definition audio/video content from your camera, phone, tablet or Roku Streaming Stick dongle directly to your HDTV via the AVR 1710's MHL connection.
---
Dual Subwoofer Outputs
Is your listening room so large that you need two subwoofers to deliver the bass that you desire? That's not a problem with the AVR 1710, thanks to dual subwoofer outputs that give your system a big-time boost in low-frequency clarity and realism when needed.
Multiroom System with Audio Output and Assignable Amplifier
Control the audio in separate rooms with a single receiver. Thanks to the AVR 1710's assignable amplifiers, you can power the audio in a second room without adding additional components. That means you can watch sports in one room while you play the soothing sounds of classical music in another.
Front-Panel USB Port
The AVR 1710 gives you multiple options for audio playback with its front-panel USB port. Simply connect an iPhone, iPad, iPod or USB stick to play your stored tracks through your home entertainment system. The integrated USB port also charges your iOS devices.
---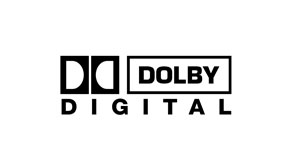 Dolby TrueHD and DTS-HD Master Audio Decoding
The AVR 1710 delivers high-resolution audio that matches the digital-video quality of Blu-ray Disc formats, unlocking the full potential of movie soundtracks formatted with Dolby TrueHD and DTS-HD Master Audio coding. No matter what mode or mood you are in, you'll always hear audio playback at its finest.
---
EzSet/EQ III Auto-Calibration
The new HARMAN EzSet/EQ III auto-calibration process precisely adjusts the AVR 1710's volume levels, speaker-distance/delay-time settings and equalization to optimize audio performance automatically for your specific speaker system and room conditions. The system features an easy-to-follow menu display and includes a plug-in calibration microphone.
---