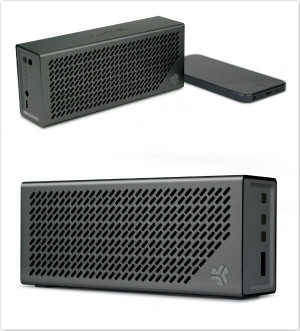 ---
Crashing The Party With Style
The Crasher Portable Bluetooth Speaker dominates the competition in every way:
Bluetooth: Free your music from cumbersome wires with the magic of Bluetooth. Stream your music from up to 30ft away or plug in with the included aux flat cable. The Crasher is ready to party with your favorite portable devices anytime, anywhere.
Sound: The Crasher's hi-fi digital amp powers two JLab engineered full-range drivers for "so fresh and so clean" mids and highs for warm, rich room filling sound while the rear passive subwoofer pumps enough bass to wake the neighbors.
Playtime: Outlasting its wet blanket competitors, The Crasher boasts 2X the rechargeable Li-Ion battery size to keep the party going for up to 18 hours*. "Don't stop the party!"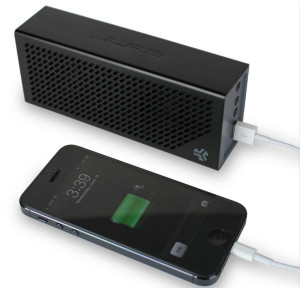 Phone Calls: A built-in mic and speakerphone makes taking calls easier than ever, creating the perfect portable conference experience.
Charging: Need juice? No problem. The Crasher is one of the only Bluetooth speakers on the market that can fully charge your smartphone or tablet while it continues to blast your favorite "jock" jams! Plug into the Crasher's full size USB port and juice up. ABC - Always Be Charging!
Good Looks: The Crasher's sleek yet rugged anodized aluminum housing boasts electric color schemes to complement the perfect sound crushing acoustics.
Accessories: The Crasher comes standard with USB AC Power Adapter, AUX Cable, USB Cable, and matching microfiber carrying pouch.
Plays well with iPod, iPad, iPad Mini, iPhone, Android, Windows Phone, Blackberry, Kindle, Kindle Fire, and all other devices with Bluetooth or a 3.5mm jack. *Tested at medium volume
---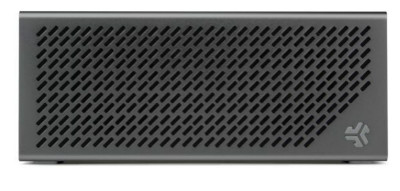 Your Satisfaction is Guaranteed
JLab guarantees your satisfaction on every JLab product, no matter what. All JLab products sold on Amazon come with a limited one-year warranty and JLab's world-class customer service. Please use the serial number on your warranty card to register your product with JLab.
What's in the Box