Tcell

Makes Life Easy and Fun!
---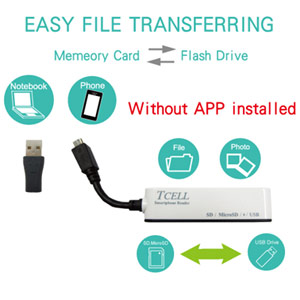 No Need to Install any Apps
Just plug the reader to the smartphone, then the phone can read the file directly, so you don't need to download and install any apps to read the files.
---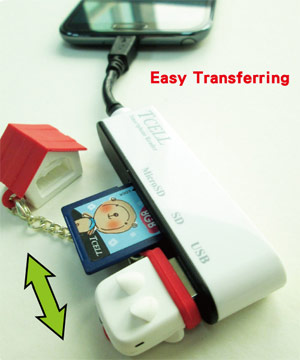 Transfer Files Between External Cards and USB Devices - Without a PC!
Tcell OTG reader is able to read both memory cards and USB devices at the same time, and you can transfer files between them without a PC, simply by using a smartphone. Leave the PC at home, just take a smartphone with you, and Tcell OTG reader can help you share information everywhere!
---
PC or Notebook Works as Well
Give up the reader you had, we attached a USB connector for you to use with a PC or Notebook. No apps, no stalling - just more convenience than ever.
---
Specifications
USB port / SDHC slot / microSD slot / microB slot (recognizes one card at a time)
Color: snowy white
Android 4.0 or above supported
Supports FAT / FAT32
Supports SDXC 64GB / microSDXC 64GB
Approved by CE?FCC,one-year warranty
Especially for Samsung Galaxy Series
Samsung Galaxy S4
Samsung Galaxy SIII
Samsung Galaxy SII
Samsung Galaxy Nexus
Samsung Galaxy Note
Samsung Galaxy NoteII
---
*The reader includes four slots:
- USB 2.0 port (backward compatible with USB 1.1)
- MicroSD slot
- SD slot
- MicroUSB port (for HDD power supply only)
*Specifications:
- Supports Android 4.0 or above
- Supports Mobile with OTG (on-the-go) function
- Supports FAT/ FAT 32 file system
- Weight: 0.04lb
- Dimensions (LxWxH): 0.81 x 5.79 x 0.53 in.
*Features:
- Supports data exchange between USB devices and memory (SD / microSD) at the same time
- Recognizes either microSD or SD, one at a time
- USB interface supports USB pen drives / a USB mouse / USB keyboards
- Free Gift: microUSB to USB adapter, enables reader to be used with PCs/Notebooks
*Media Card Compatibility:
SD / SDHC / SDXC / microSD / microSDHC / microSDXC
*Mobile Supported:
Samsung Galaxy S4 / Samsung Galaxy S3 / Samsung Galaxy S2 / Samsung Galaxy Nexus / Samsung Galaxy Note / Samsung Galaxy Note II, etc.; also supports other Samsung mobiles with OTG function