Next-Generation Super Charger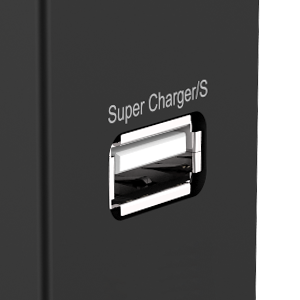 Have you ever noticed your charger can't charge all your devices, or extra hours are needed while charging? Or, you have a charger with multiple ports - some for iPhones while some for other devices - and the device will not charge once attached to wrong ports? Is that normal? Is that acceptable? Is your charger really working properly? Let's find out.
Every device manufacturer such as Apple, Samsung, etc., will use exclusive, optimized designs on power supply circuits and chargers to ensure a rapid & secure battery charge. That's helpful when we charge a battery or device via the original charger. However, the vexing part is the optimized design of each manufacturer is different from others. That is a horrible disaster! You may have noticed that if you have left your iPad charger at home and charge your iPad with your friend's Samsung charger at the office, the Samsung Charger will not charge your iPad.
Today, we have chargers with lots of ports - such as the one with some ports for iPhones and some for other devices mentioned above. That is good, but not good enough.Nobody wants to wake up in the morning and find their phone or tablet to have a low battery because they attached it to the wrong USB port before going to sleep. We want to just plug in and charge up.
Now, ORICO has released a revolutionary Super Charger with the World's First Smart Charging Technology. It's a plug-in-and-charge unit for any device. ORICO Super Charger with its Smart-Charging Controller inside will identify what is attached to the charger and self-regulate to exactly match the optimized power supply circuit design of the attached device. With the help of the Smart Charging Controller, any phone or tablet can be powered with maximum power - as well as the device's original charger. Don't worry if you left you original charger at home or if your devices can't power up via a regular charger! And don't worry if you are charging your device with wrong USB ports. The ORICO Super Charger is designed to power every device - it will help you out!