JLab JBuds J4 Heavy Bass Metal In-Ear Earbuds Style Headphones with Travel Case (Silver)
JLab seeks to up the game with every new generation of the bestselling JBuds line, and the J4M Rugged Metal Earbuds Style Headphones are no exception.
Building on the sleek style, premium sound, and maximum comfort of the bestselling JBuds J3 earbuds, we gave the new JBuds J4M's a super strong, yet flexible exoskeleton armor over all components for extreme durability and a hot new rugged look. These cans are built to last! The J4M ear buds also feature a rock solid, heavy duty aluminum housing, tangle-free flat cables with kevlar reinforcement, eye candy 3D logo details, and an extra tough EVA carrying case with room for your J4M's as well as an iPod nano or shuffle.
The J4Ms also include seven pairs of custom molded earbuds cushions, in both single flange (XS, S, M, L) and double flange (XS/S, S/M, L/XL). The J4Ms are arguably the most rugged and durable earphones ever made. They're the perfect solution for those seeking an extra tough, heavy-duty pair of ear buds with the legendary JLab sound: balanced wide range response, tight bass, and crisp clarity. The J4M includes an in-line mic with button control for crystal clear calls.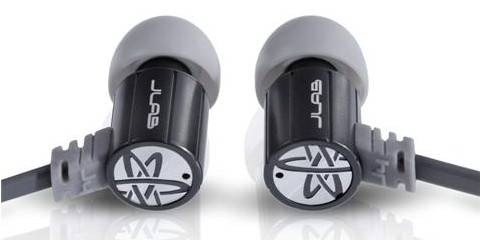 Durability
JLab's Most Rugged Components Ever
The J4M is the ultimate evolution in JBuds technology. All components have been redesigned from the ground up, using the most sophisticated techniques and materials we've ever used to achieve maximum durability and the longest possible product life. The reinforced exoskeleton on each component provides perfect flexibility for ease of movement, while completely protecting every cable connection and joint.
Compatible With:
Tablets: Kindle Fire, iPad, Motorola Zoom, HP Touchpad, Asus EEE Pad, Acer Iconia, Toshiba Thrive, Coby Kyros, Viewsonic, Sony, Blackberry Playbook, Vizio, Archos, Android, Dell, T-Mobile, and other tablets*.
MP3 players: All iPods, Sansa, Sandisk, Coby, Archos, Sony, Creative, Sylvania, and others*.
eReaders: Kindle and others*
Computers: All laptops, notebooks, and desktops*
*JBuds are compatible with any portable devices with a standard 3.5mm jack. Please check your device specifications or manufacturer for any further compatibility details.
Perfect for use with iPhone, Android, HTC, Blackberry, and other mobile phones, as well as tablets with VOIP apps, including Skype*.
Your Satisfaction is Guaranteed.
JLab guarantees your satisfaction on every JLab product, no matter what. All JLab products sold on Newegg come with a limited one-year warranty and JLab's world-class customer service. Please use the serial number on your warranty card to register your product with JLab.