JLab JBuds - Hi-Fi Noise-Reducing Ear Buds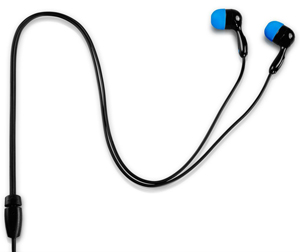 Noise Reduction and Great Sound Quality in a Tiny Package
JBuds are the perfect companion for your iPod, MP3 player, laptop, portable DVD, MD, radio, or other audio devices, combining sleek design, premium sound quality, noise reduction, and maximum comfort.
Comfortable and Convenient
The soft silicone earbuds fit perfectly inside your ears, allowing you to comfortably enjoy your music non-stop while blocking outside noise. A 4.5-foot cord gives you extra space to maneuver. The JBuds give you a high-intensity listening experience with crisp, clear sound and powerful bass.

Compatible With:
Tablets: Kindle Fire, iPad, Motorola Zoom, HP Touchpad, Asus EEE Pad, Acer Iconia, Toshiba Thrive, Coby Kyros, Viewsonic, Sony, Blackberry Playbook, Vizio, Archos, Android, Dell, T-Mobile, and other tablets*.

MP3 Players: All iPods, Sansa, Sandisk, Coby, Archos, Sony, Creative, Sylvania, and others*.
eReaders: Kindle and others*
Computers: All laptops, notebooks, and desktops*
*JBuds are compatible with any portable devices with a standard 3.5mm jack. Please check your device specifications or manufacturer for any further compatibility details.

Your Satisfaction is Guaranteed
JLab guarantees your satisfaction on every JLab product, no matter what. Please use the serial number on your warranty card to register your product with JLab.