Easier Than Easy
Get Inserted, And Get Started,
Introducing ORICO Tool-Free External Hard Drive Enclosure
Designed to
manage your
most favorite files
ORICO Exclusive Tool-Free Enclosure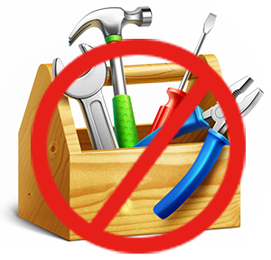 Unlike regular hard drive enclosures that mount the drive with screws and a screw driver, the ORICO 25AU3 Tool-Free Enclosure helps to mount the drive without tools and screws in seconds. Convert an internal 9.5mm slim 2.5 inch notebook SATA Hard Disk Drive or Solid State Drive (SSD) external easier than ever.
With the help of tool free construction you can open the lid and eject the mounted drive, then replace another drive to have all your files and 2.5-inch SATA drives managed.
USB Plug & Play
Requires no reboot, driver, or utility, ORICO 25AU3 is completely plug and play. All you need is to insert a drive and attach it to USB host of computer. Then you can access your laptop internal Hard Drive or SSD through USB at once and transfer your files in minutes.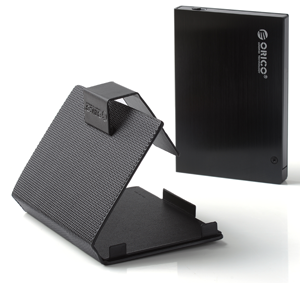 Slim, But Fits Most Drives
This enclosure comes with protection. It fits 9.5mm slim SATA hard drives or SSD. It's an ideal kit to manage your 2.5inch SATA Drive with any size.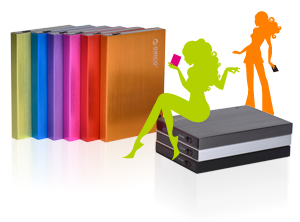 Head Anywhere You Love With Your Most Favorite Files
ORICO 25AU3 with no additional power adapter is easy to slip into your bag or pocket for carrying & travelling, enabling you to take valuable files with you anywhere and anytime. If you are looking for something to convert an internal drive to an external drive, the ORICO 25AU3 will be the key solution.
Illustration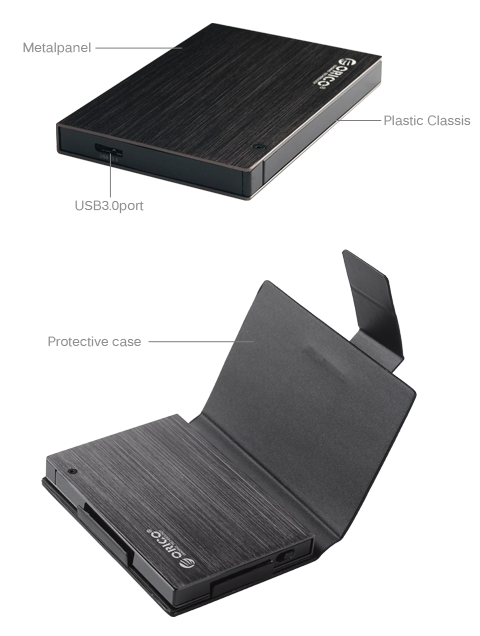 Specifications
| | |
| --- | --- |
| Item # | ORICO 25AU3 |
| Description | Tool Free 2.5-inch SATA to USB Hard Drive Enclosure |
| Drives Supported | 9.5mm Slim 2.5" SATA I,II,III Hard Drive or SSD |
| Input | 1x SATA Interface support SATA 1,2 and SATA 3.0 Drive |
| Output | USB3.0 Self-Powered (Powered via USB3.0 Sync Cable,No Power Adapter Needed) |
| Power Input | USB Self-Powered (Powered via Sync Cable,No Power Adapter Needed) |
| Chassis | Aluminum |
| Color | Available in Black,Gray,Sliver,Orange,Pink,Purple Blue,Yellow and Red |
| Size | 5.2 x 3.5 x 0.5 in (132x90x14 mm) |
| Weight | 0.32 lbs (145 g) |
| Operation System Supported | Windows XP or Later,Linux and Mac OS |
What's in the Box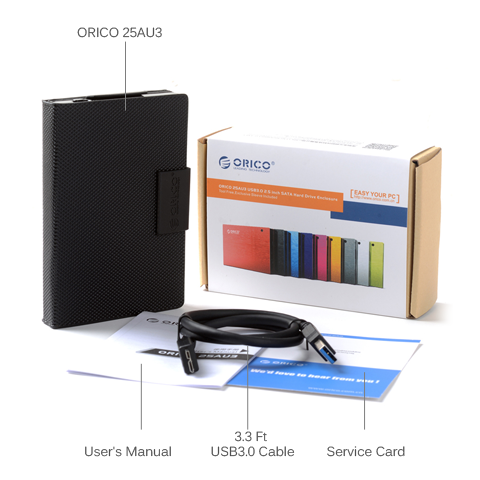 Compatibility
- ORICO 25AU3 compatible with Windows 98 , 2000 , XP , 2003 , Vista , 7 , 2008 , Windows 8 , 8.1 , Windows 10 32 or 64Bit , Linux kernels 3.0 or Later and Mac Desktop & Laptop with Available USB Host.
- Please contact ORICO Customer Care Team for support if you experienced any issue,We will be here to help you apply latest USB Host Driver update of computer,Or Upgrade Firmware.You can also check ORICO Website for latest Support or Firmware info.
- Note.This Item Does Not Fit IDE Drive.