MS320

Handheld Imager Scanner (1D)
The MS320 barcode scanner is an easy device to integrate into your workspace. Affordable, simple to use, and effective in a variety of spaces, this corded barcode scanner offers the straightforward functionality you require to streamline your business.
The MS320 is a scanner that matches any laser scanner in performance by incorporating aggressive long range CCD scanning technology. It also gives the user excellent comfort thanks to its ergonomic and lightweight design.
It's built to withstand multiple drops of 5-feet to a concrete floor. Besides supporting most common one dimensional barcodes, the MS320 also supports two dimensional PDF417 barcodes. This barcode is selected for applications in areas such as the automotive industry for key applications as shipping, product evidence, quality conveyance, production broadcast, configuration management and material safety data sheets.
As a valuable accessory, the MS320 comes (optionally) with an adjustable hands-free stand for automated operation. It delivers the flexibility to operate as a presentation scanner, making the scanner suitable for your point of sale, office automation and document tracking applications.
Target Markets / Applications
This corded barcode scanner is at home just about anywhere, whether it's processing payments on a retail counter or tracking shipments in the warehouse.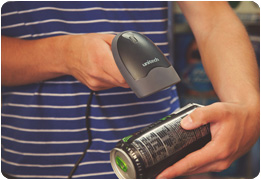 Retail
SMB
Asset Tracking
Document Processing
Manufacturing
Work-In-Process
Tool Crib
Warehouse
Features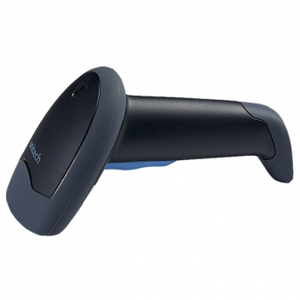 Supports most common 1D barcodes and the two dimensional barcode PDF417 (multi-row symbology)
Robust design withstanding 1.5m to concrete floor
Anti-scud material (fits like a glove, doesn't slip out of your hand)
Optional hands free stand for automatic scanning
Contact and wide reading enables you to read labels up to 25cm DOF and up to 12 cm wide
The interchangeable plug-in design allows you to replace the cable easily and minimizes downtime from damaged cables
Setting the scanner via quick set-up or barcode manual through PC by scan utility software (RS232-cable required)
Flash-ROM for easy post-purchase software upgrades via RS232 interface design
Flexible connectivity via auto discriminating interface design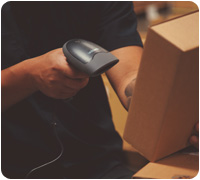 Long-Range Scanning
The MS320 is a long-range barcode scanner that reads all linear barcodes. Its powerful scan engine makes its performance comparable to that of more expensive laser barcode scanners. With this device you can reliably and consistently scan barcodes up to a foot away.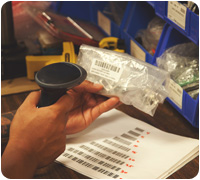 Versatile
The comfortable and ergonomic design of the MS320 makes it easy to operate. Whether it's picked up once an hour or used consistently for an entire shift, the MS320's compact and lightweight form factor will prevent user-fatigue and simplify scan-intensive applications.
This barcode scanner is available in three different interface options: USB, keyboard wedge, and serial. The interface cables are easily interchangeable, making it suitable for a wide variety of computer systems. Easy plug-and-play installation means your team will be up and running in no time.
For added flexibility, the MS320 is also available with a hands-free stand.
In addition to reading all major 1D barcodes, the MS320 also reads the 2D barcode PDF417.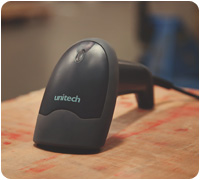 Rugged
The Unitech Service Guarantee backs this powerful corded barcode scanner for five years. However, the MS320's rugged enclosure makes it highly unlikely you'll ever have to send it in for repair. The MS320 is a rugged barcode scanner, meaning it is built to last. Equipped with a special sealing that repels moisture and dust and built to withstand repeated 5-foot falls to concrete, the MS320 is a bold investment in your company's future.
Summary
Replacement for our best-selling MS335 barcode scanner
Reads all common 1D barcodes and PDF417
Hands-free stand available
Multiple interface options
Withstands 5-foot drops to concrete
Environmentally sealed against moisture and dust
Warranty: 5 Years
Gallery