GPX 2.1-Channel Home Theater System with Subwoofer
2.1 channel surround sound. Unit includes: left, right, and subwoofer speakers, RCA stereo audio inputs, analog volume control, and built-in amplifier.
FEATURES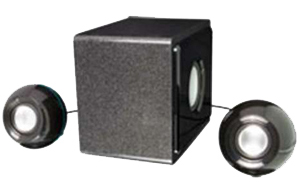 2.1 channel stereo sound
3 surround sound speakers: left, right, and subwoofer
Built-in amplifier
RCA stereo audio inputs
On/Off switch
Bass controls
Analog volume control
Wooden speaker enclosure
AC power: built-in AC power cable
Includes: 3.5mm to RCA audio cable
FAQ'S
How do I connect my HT12B to my TV ?
Please connect the stereo Outputs of your TV or Cable/Satellite providers equipment to the stereo Inputs. These inputs are located on the back of the sub woofer of the HT12B. Adjust the volume of the HT12B to match the output level of the television.
I do not hear any sound once connected?
Did you connect it to a power source ?
Did you turn on the power switch located on the back of the sub woofer?
Are the speakers illuminated with a blue ring? If not check the speaker output connection
Adjust the volume control on the rear of the sub woofer