Product Description
Are you tired of filling heavy gas cans? Are you looking for a clean, reliable alternative to a portable generator? The PV3000GFCI PowerVerter® Ultra-Compact Inverter is the solution you seek! It powers the equipment you commonly use at home or work—power tools, portable lighting, notebook computers and more—wherever life takes you. It's the ideal power solution for RVs, commercial and fleet vehicles, emergency vehicles, remote sites and any other application that requires a clean, quiet AC power source. The PV3000GFCI efficiently converts DC (battery) power into 120V AC (household) power to run any type of equipment, from power tools to computers. And unlike portable generators, the PV3000GFCI requires no fuel and produces no noise or fumes. With its 3000-watt capacity, this inverter can power equipment with ease. In DoubleBoost™ mode, the PV3000GFCI can also provide up to 6000 watts of instantaneous output power to support power-hungry equipment start-ups. For additional safety in harsh environments, this inverter is equipped with 4 GFCI-protected outlets to prevent shock injury.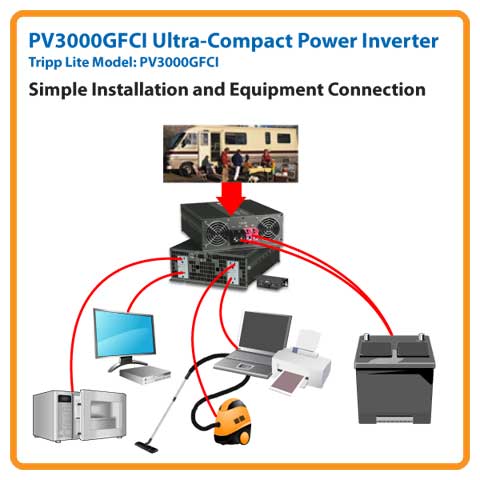 Feature Focus
Key Features
Computer-Grade Output Power
The PV3000GFCI efficiently converts DC power from a vehicle battery into 120V AC power for any type of equipment, from heavy-duty drills, saws and pumps to computers and sensitive monitoring equipment. The PV3000GFCI provides safe, stable, AC output power to help connected equipment perform at its peak. A frequency control feature ensures that devices dependent on tightly regulated AC line frequency, such as computers, VCRs and DVD/CD players, receive clean, computer-grade power.
Extended Peak Surge Power
Many tools, appliances and printers require extra power for start-up. The PV3000GFCI accommodates these peak surge demands by providing up to 200% more output power than its continuous rating. In DoubleBoost mode, it can deliver 6000 watts for up to 10 seconds to support power-hungry equipment start-ups and motor cycling requirements.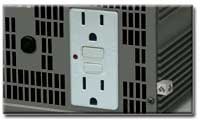 Shock-Protected GFCI Outlets
The PV3000GFCI is equipped with 4 GFCI-protected 5-15R outlets that constantly monitor the flow of electricity through the inverter's circuits. If they detect a ground fault (loss of current through the circuit), these GFCI outlets automatically switch off power to prevent shock injury.
Diagnostic LEDs
2 sets of diagnostic LEDs indicate load level (high, medium and low) and battery charge (high, medium and low) status.
Automatic Overload Shutdown
To prevent damage to the inverter and connected equipment, the PV3000GFCI will shut down automatically if an overload is detected at the inverter outlets. The red Load Level Indicator LED will flash to alert you that an overload has occurred.
Efficient and Safe for Batteries
With its 94% efficiency rating, the PV3000GFCI maximizes battery performance to run connected equipment longer. It also features a Load Sense (battery charge conservation) setting to prevent overtaxing of batteries. An automatic low-battery shutdown feature ensures you'll always have sufficient battery power available to start your vehicle.
Rugged Construction
The PV3000GFCI's all-metal housing is built to withstand vibration and impact—ideal for use at remote worksites, in trucks, RVs and other vehicles, on boats or anywhere that reliable AC power is needed. The housing is constructed with a grooved surface to promote more efficient cooling.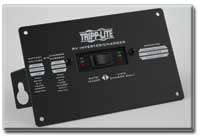 Simple Installation and Equipment Connection
The PV3000GFCI features integral mounting slots for permanent installation on any rigid, horizontal surface, such as the bed of a pickup truck. Connecting the PV3000GFCI to your battery system is quick and easy with readily available user-supplied cables. AC power is provided to connected equipment via 4 AC receptacles on the front of the unit. The PV3000GFCI is also equipped with an RJ45 port for connection of the included Remote Control LED/Switch Module (Tripp Lite model APSRM4), allowing you to control and monitor the inverter from virtually anywhere within a vehicle.
One-Year Warranty and Environmentally Responsible Design
The PV3000GFCI is manufactured in compliance with strict RoHS specifications, reflecting Tripp Lite's commitment to environmental responsibility. For peace of mind, it comes backed by a one-year warranty.
Technical Specifications
Voltage Compatibility:
12V DC
Frequency Compatibility:
60 Hz
Output Voltage:
120V AC
Continuous Output Capacity:
3000 watts
Peak Output Capacity:
6000 watts/10 seconds
Overload Protection:
Output circuit breaker
Cooling Method:
Fan
Input Connection:
2 x DC input terminals (user supplies cables)
Outlets (Quantity/Type):
4 x 5-15R (GFCI-protected)
Switches/LEDs/Alarms:
3-positon On/Off/Remote switch
6 x diagnostic LEDs
Low voltage alarm/automatic shutdown
Dimensions (HWD):
4.3 x 12.5 x 14.8 in.
Weight:
13.7 lbs.
Material of construction:
Aluminum/sheet metal
Warranty:
One-year
What's in the Box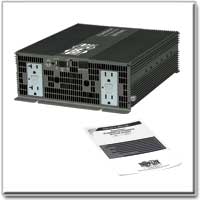 PV3000GFCI PowerVerter® Ultra-Compact Power Inverter
Remote control LED/switch module (APSRM4)
25-ft. remote cable
Warranty information
Instruction manual
Warranty, Returns, And Additional Information
Warranty
Limited Warranty period (parts): 1 year
Limited Warranty period (labor): 1 year