Tripp Lite High-Speed USB 2.0-over-Cat5 Extender Hub - Overview
Get the most out of your USB peripherals with Tripp Lite's B203-104 High-Speed USB 2.0-over-Cat5 Extender Hub. The B203-104 allows you to connect 4 USB peripherals up to 328ft. away from your computer, perfect for home or office workstations with permanently installed or difficult-to-move USB peripherals. The B203-104 utilizes high-speed USB 2.0 technology and readily available Cat5e/6 cables like the Tripp Lite N202-series. With a compact, durable design, the B203-104 fits almost anywhere in your workspace. Transfer rates up to 480Mbps ensure that your peripheral performance will not suffer at any distance. The B203-104 features a green, RoHS-compliant design that is also TAA-compliant for GSA schedule purchases.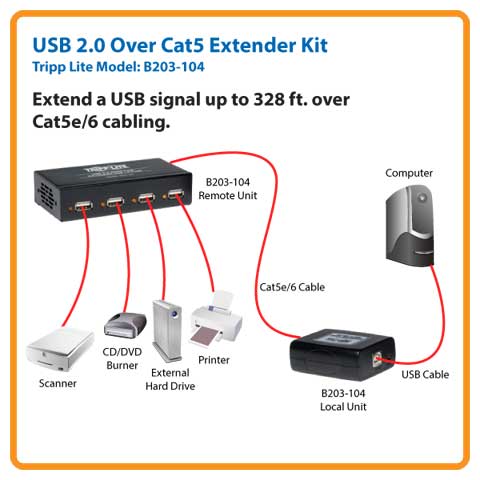 Feature Focus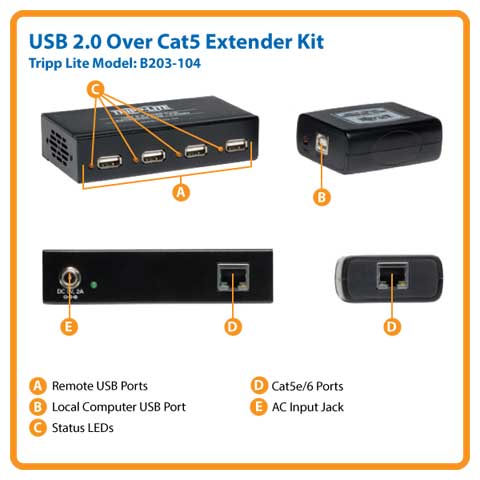 Key Features
Turn Your Home or Office PC into a Powerful Workstation
With the ability to connect four USB peripherals to your computer from up to 328ft. away, the B203-104 allows your PC to become a powerful, multi-faceted workstation. The B203-104 is ideal for home or office applications with permanently installed or hard-to-access USB peripherals.
Greater Distance—Greater Flexibility
By extending the range in which a peripheral can be connected to a computer via USB beyond the normal 16ft. distance limitation, the B203-104 allows for unsurpassed workstation flexibility. Peripherals can now be located in a different area or completely different room from the workstation with which they interact over USB. And, with transfer rates up to 480Mbps, performance never suffers.
Compact, Functional Design
The B203-104's compact design allows to it to be located almost anywhere in your workstation. With a built-in flexible cord, the local unit allows for versatile placement around your computer. The unit's ports are housed in a durable casing and the built-in LEDs allow for complete status assessment at a glance.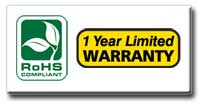 One-Year Warranty and Environmentally Responsible Design
The B203-104 is manufactured in compliance with strict RoHS specifications, reflecting Tripp Lite's commitment to environmental responsibility. It is also compliant with the Federal Trade Agreements Act (TAA) for GSA Schedule purchases. For peace of mind, it comes backed by a one-year warranty.
Technical Specifications
Type:
USB 2.0-Over-Cat5 Extender
Connectors:
Computer Connector: USB B Female
Cat5e/6 Connector: 2 x RJ45 Female
Peripheral Connector: 4 x USB A Female
Regulatory Compliance:
Meets RoHS standards; Compliant with the Federal Trade Agreements Act (TAA) for GSA Schedule purchases
Warranty:
One-year
What's in the Box
Local Transmitter Unit
Remote Receiver Unit
1ft. USB A/B Device Cable
External Power Supply – Remote Unit Only (Input: 100 ~ 240V, 50/60Hz, 0.5A Output: 5V, 2A)
Driver CD
Owner's Manual