SAMSUNG S22C450D
Matte Black 21.5" 5ms Widescreen LED Backlight LCD Monitor
An ideal choice for anyone, the Samsung S22C450D boasts an LED-backlit LCD screen that produces excellent text clarity and rich color. This monitor features an ergonomic, 4-way adjustable stand that keeps you comfortable, focused and productive. Its narrow-bezel design saves desk space, while its front-mounted tactile buttons allow for easy, intuitive operation. With inputs including VGA and DVI, you have the flexibility to connect to the devices you use most.
Everything's Up Front
With narrow bezels, a black matte finish and front-mounted tactile buttons, the SC450 Series is an easy-to-use, easy-to-deploy and easy-to-maintain professional-grade desktop monitor solution.
Better Ergonomics
Since the SC450 Series is VESA compatible with light weights and thin panel depths, installation on a wall or separate mounting arms is easy. Better ergonomics through height adjustable stand that features tilt, swivel, and rotate capability.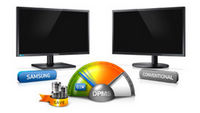 Save Energy, Save Money
Samsung's LED-backlight technology and user-selectable Eco-saving features enable enterprises to better manage power usage and reduce energy consumption up to 50% vs. CCFL.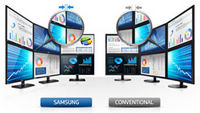 Narrow Bezels Save Space
The narrow-bezel design and low profile stands take up less desk space and contribute to a cleaner-looking office. The built-in cable management feature also adds to a clutter-free work environment.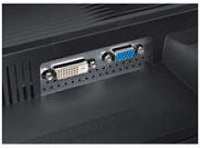 Comprehensive Connectivity Options
A wide range of connectivity options provide flexibility to connect to any device a user may have now or in the future. Each model includes a combination of two or three connection options like VGA, DVI, HDMI, and Display port. Model S22C450D has VGA and DVI connectors.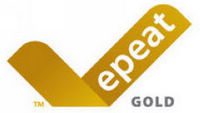 Rated EPEAT Gold Standard
By meeting and exceeding the highest green standards, this product has been rated GOLD by the EPEAT. The rating is based on the environmental impact in a complete product lifecycle, so consumers can easily match high-performance electronics with green benefits. Earning this top rating means this product surpasses standard green criteria by at least 75%.