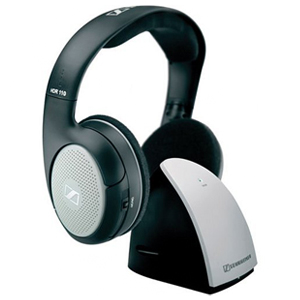 RS 110 Wireless Stereo Headphones
These Sennheiser entry-level headphones are an ideal choice for people who like to walk around the room while listening to their favorite tunes. The system features a 900MHz wireless transmitter that broadcasts a powerful signal throughout the room - and even through walls and ceilings. Should listeners wander upstairs or outside, they can still enjoy the headphones' warm sound and strong bass response provided they stay within range.

The RS-110 headphones are also ideal for listening to late-night TV without waking up the rest of the house. And thanks to the lightweight, soft earpads, the phones feel comfortable through hours of use. In addition, the phones include replaceable parts, so users don't have to buy new headphones each time a part wears out, along with a pair of AAA batteries. So don't get tied down by restrictive cables. With these Sennheiser headphones, users will enjoy a whole new world of wireless convenience.