AKG On-Ear Folding Mini Headphones with 1/8-Inch & 1/4-Inch (3.5mm/6.3mm) Connectors - K430WHT
Comfortable. Portable. Incredible.
"These headphones not only look the business but deliver excellent audio too," says The Sunday Times (of London). We agree. We've revamped our much-praised AKG® K430 on-ear headphones' design to offer savvy listeners eight striking colors for a more stylish way to tune into their favorite music. An ingenious, 3D-Axis folding mechanism makes for easy traveling and an integrated volume control lets you alter the sound output without messing with your source device. Soft ear pads make extended listening experiences super comfortable. And with the headphones' wide dynamic range, you'll hear every nuance that your favorite tunes can offer.
PRODUCT DETAILS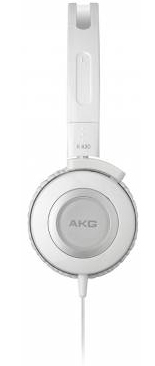 Super-comfortable, on-ear headphones offer more than just great sound. For more than six decades, AKG® Acoustics has provided musicians and engineers with the finest recording-studio microphones and headphones. Drawing upon our prestigious heritage and innovative audio technology, we've created a pair of headphones that bring you close to studio-quality audio.
Based on the popular AKG K430 on-ear headphones, this revamped model features eight stylish colors for those savvy listeners who appreciate stunning design. Their biggest highlight is the sound – you'll hear crystal-clear highs and mids with resounding bass that reaches frequencies as low as 12Hz. The headphones' unique 3D-Axis folding mechanism, coupled with a convenient carrying case, makes them a wonderful traveling companion. They also feature soft ear pads, which makes extended listening experiences super comfortable – you'll hardly know you're wearing headphones at all. And their integrated volume control allows you to dial in the right level without fumbling around for your source device.
Big on compatibility, the K430s work with iPhones and practically any other media device that features a 1/8-inch (3.5mm) jack; a 1/4-inch (6.3mm) adapter is also included for use with professional equipment.
FEATURES
Closed-Back Design
Keep your music inside your ears and keep the outside world at bay. The AKG K430s feature a closed-back design similar to the types that studio engineers use – ideal for those who want a sense of isolation from outside noise.
Unique 3D-Axis Folding Mechanism
Fold your headphones flat and take them with you. The K430s' 3D-Axis folding mechanism is ideal for those who want to take great sound wherever they go.
iPhone Compatibility Plus 1/4" (6.3mm) Jack Adapter
No matter the version of your iPhone, the K430s are ready to rock. Compatible with tablets, MP3 players and audio devices, they also come with a 1/4-inch (6.3-millimeter) jack adapter that you can use with professional audio equipment.
Available in Eight Stylish Colors
If you're like most music lovers, you march to your own beat. To offer those who desire a little flair in their audible fashion, we've revamped the K430s to offer eight colors: black, white, green, red, orange, light blue, dark blue and purple.
New, Soft Ear Pads
With their new, soft ear pads, you'll hardly know you're wearing the AKG K430s. They're perfect for those who listen to music over long periods.
Single-Sided Cable
Like their studio counterparts, the AKG K430s feature a cable on only one side rather than both, keeping unwanted clutter and unnecessary cables off of your workspace and out of your way.
Ergonomically Designed Volume Control
You'll never need to reach into your pocket or purse when adjusting your audio source's output, thanks to the K430s' easy-to-reach volume control.
Carrying Case Included
Transporting your K430s comes easy. Its included case is small and made to work with your headphones' slim, folding form factor.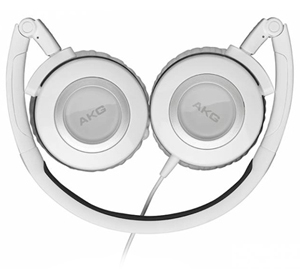 SPECIFICATIONS
| | |
| --- | --- |
| Frequency Response: | 12Hz - 28kHz |
| Maximum Input Power: | 30mW |
| Input Impedance: | 32 Ohms |
| Sensitivity: | 125dB SPL/V |
| Cable: | 1/8-inch (3.5mm) connector; length 3.3ft (1m) |
| Connector: | Hard gold-plated jack plug and contacts |
| Weight: | 3.9oz (110g) |
| Color: | Black, white, green, red, orange, light blue, dark blue, purple |