Raising the Bar
For those who demand audio quality that lives up to their HD picture, Pioneer offers the new Speaker Bar System. Designed by internationally renowned speaker designer, Andrew Jones, this compact sound solution produces remarkable stereo imaging, wider off-axis response, and enhanced dynamic range. Its speaker cabinet is precision-crafted from composite wood, offering more controlled resonance and truer audio reproduction. Six individual speakers are each driven by their own dedicated amplifier and integrated by an active digital crossover network. This symphony of audio innovations all work together to help create a listening experience that will virtually transport you into the action on screen.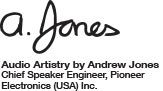 Andrew Jones Designed for Those Who Care About Sound
Crafted by legendary speaker engineer Andrew Jones to deliver excellent full-range sound from a small, simple solution audio package. As Pioneer's Chief Speaker Engineer, Andrew has designed multiple lines of award winning loudspeakers ranging in price from $99 to $80,000 a pair. He is considered an audio master in the industry.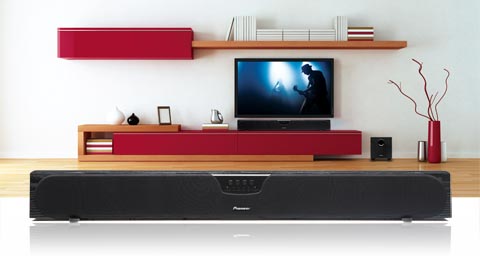 An Amplifier for Each Speaker and a Wireless Subwoofer
Pioneer's Speaker Bar is powered by six individual amplifiers – one amplifier for each independent driver. The amps produce up to 28 Watts of power for increased audio dynamics and enhanced overall "headroom" at virtually any volume level. Handling the low frequencies is a wireless subwoofer, featuring a 6.5-inch driver that's powered by a built-in 50-Watt amplifier. Tuned to 42Hz (-10dB), the output level can be conveniently adjusted with the Speaker Bar remote.

Sonic Integration using Active Crossover Network
To help optimize speaker response, vocal clarity and off-axis listening, Andrew Jones added a matching active digital crossover network to the Speaker Bar system. This network allows for higher order filter points, enhancing the audio transitions between the woofers and the tweeters.

System Smarts with Remote Control Learning Mode
While the Speaker Bar system includes a remote control unit, most people prefer to control everything with their favorite remote. That's why Pioneer gave the Speaker Bar a special learning mode that lets you quickly teach the system to respond to commands from any remote you choose.

True Resonance from a Composite Wood Cabinet
Most sound bars on the market have enclosures made of plastic. Pioneer's Speaker Bar features a composite wooden cabinet enclosure with a special curved design, helping it resist the "flexing" that can occur when the speakers are at high volume. With its superior resistance to undesirable resonance, genuine wood provides more faithful sound reproduction.

Sonic Standard with Dolby Digital Decoding
Helping to ensure that the entertainment experience is rich and immersive, the Speaker Bar includes Dolby Digital Decoding. The standard in home theater systems, Dolby Digital Decoding delivers crisp, clean dialogue, excellent audio imaging, and powerful deep bass.

Three Sound Modes for Selective Listening
The Speaker Bar offers three sound modes: Movies, Music and Dialogue. The Movies mode enhances the dynamic, explosive sound characteristics of modern movies. The Music mode is optimized for the most natural reproduction of music. The Dialogue mode optimizes the quality of spoken words, while significantly reducing loud sequences, making it ideal for late night viewing.

Get Streaming Using Bluetooth Technology
Adding even more convenience to the Speaker Bar system is built-in Bluetooth technology. This advanced technology enables you to stream music wirelessly from your compatible smartphone or tablet. Immersive audio doesn't have to be complicated. Pioneer's Speaker Bar system is designed to make set-up simple. With minimal cables to connect and an easy subwoofer synchronization process, you'll be enjoying a remarkable entertainment experience in just minutes.