OVERVIEW
Sangean AM/FM Digital Clock Radio RCR-5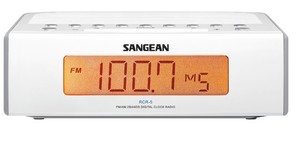 Sangean has established a reputation for manufacturing the highest quality standards and performance radios for 40 years. Our latest RCR-5 BK AM/FM clock radio is as attractive as it is unique. Offering features and performance generally found in the most expensive clock radios.
A small radio with big sound and excellent AM/FM reception. Sangeans digital tuner reduces drift on AM stations and is able to lock in weak FM station.
The RCR-5 has 10 presets for all our favorite stations, and Main Features has an easy to read adjustable backlit LCD display.
The display is of soft, warm color, most conducive to a good sleeping environment. The RCR-5 is a very well designed clock radio with great sound for music and talk radio.
Dual Alarm Timers for both "Waking Up to Radio" and/or "waking up to the HWS Buzzer" (Humane Wake Up System) at different times for weekdays, weekends, daily or just once. The RCR-5 has Sleep, Nap and Snooze timers
An Aux Input allows listening to your favorite CD, Smartphone or most audio devices through the radio. The RCR-5BK is the perfect bedside alarm clock radio.