Holmes Large Allergen Remover Air Purifier Console with True HEPA Filter
HAP756-NU
This Holmes Allergen Remover uses True HEPA Filtration to remove up to 99.97% of airborne allergens as small as 0.3 microns from air passing through the filter. These allergens include ragweed pollen, grass pollen, tree pollen, household dust, dust mite debris, mold spores, pet dander and smoke.. It will let you feel better knowing that your family is breathing cleaner air plus, it also helps fight common household odors with the power of the carbon odor filter, which has been treated with Arm & Hammer baking soda, to trap larger particles as well as absorb and eliminate odors that may come from pets, garbage, bathrooms, litter boxes, smoke and cooking.
True HEPA filtration removes up to 99.97% of airborne allergens from air that passes through the filter
Arm & Hammer-enhanced filter helps eliminate common household odors
Filter monitors alert you when filter changes are needed to maintain maximum performance
Recommended for rooms up to 418 sq ft (20ft x 21ft), Smoke CADR 270
Recommended Filters: Holmes HAPF600D-U2 True HEPA Filter & Holmes HAPF60-U3 Carbon Filter
Indoor Air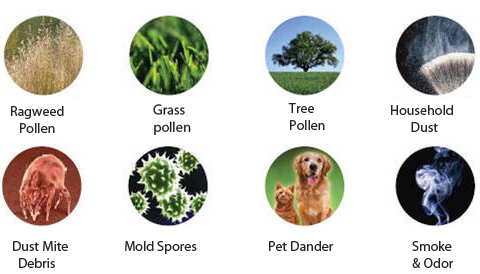 WHY PURIFY YOUR AIR?
We purify our water, why not our air? We eat organic food, drink filtered water and clean with anti-bacterial products. What about the air you and your family breathe? Indoor air is up to 5 times more polluted than outdoor air, according to the EPA. Americans spend an estimated 90 percent of their time indoors. Even in the cleanest homes, don't be fooled by what you cannot see. These culprits may not be visible, but they are there wreaking havoc on the well-being of you and your family.
1. Using fans, dirty air is brought in through an intake grill typically found on the front or back of the unit.
2. The air then passes through filters helping to remove pollutants, allergens and other contaminants from the air you breathe.
3. After the air is filtered, a powerful fan quietly distributes the clean air back into the room. As an added function, some air purifiers include Ionizers that release negatively charged ions, which attach to dander, pollen and other small, posi¬tively charged impurities to form larger particles that are more easily trapped by the filter.
HOW DOES AN AIR PURIFIER HELP?
You can take precautions to help control indoor air quality and reduce the threat of these unavoidable pollutants in your home. One of the most effective ways is through air purification. By placing Holmes® air purifiers throughout your home, you can capture and trap up to 99.97% of impurities from air passing through the filter. Widely recommended by doctors and allergists, air purifiers protect you and your family all year long.
SMALL ROOM
UP TO 155 SQ.FT
Ideal for small rooms
and nurseries
RECOMMENDED PRODUCT SIZE:
DESKTOP OR MINI TOWER
MEDIUM ROOM
UP TO 300 SQ.FT
Ideal for bedrooms and family
rooms
RECOMMENDED PRODUCT SIZE:
MINI TOWER OR TOWER
LARGE ROOM
UP TO 500 SQ.FT
Ideal for great rooms and
larger living spaces
RECOMMENDED PRODUCT SIZE:
TOWER AND CONSOLES
Where Are You Putting It?
Room size and area of coverage are important when determining which air purifier is right for you.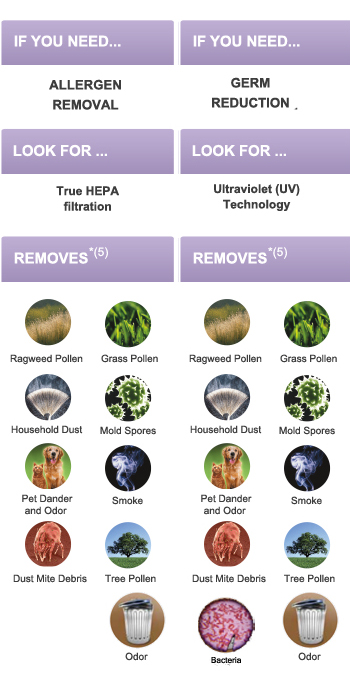 What An Air Purifier Removes
How to decide which one is right for you? Investing in an air purifier is the first step toward creating a fresh, clean indoor environment. Before making a purchase, you'll need to consider many factors, like the size of the room, if you're looking for allergy relief or just overall wellness, and which type of air filter is best for your home and lifestyle.
The aer1™ Filter Advantage
Filter Type
Technology
Consumer Benefit
Odor Eliminator
10 times the odor fighting power. Contains Arm & Hammer8 Baking Soda, carbon and zeolite for odor control.
Ideal for eliminating odors from pets, tobacco smoke, cooking fumes, household odors, garbage and stale indoor air. lasts up to four months.
Total Air
99% HEPA type technology. Removes pollutants as small as 2 microns Infused with Arm & Hammer® Baking Soda.
Ideal for dust reduction. Delivers 30% air quality, based on DUST CADR values compalred to standard HAPF30. Lasts up to four months.
Allergen Remover
99.97% True HEPA technology. Removes up to 99.97% of particles passing through the filter such as pollen, dust, mold and dander as small as .3 microns.
Ideal for allergy sufferers. Lasts up to 12 months.
Allergen Performance Plus
99.99% True HEP A technology. Removes up to 99.99% of particles in the air as small as .3 microns.
Ideal for allergy sufferers who are looking lo capture allergens and pollutants such as pollen, dust, mold, pet dander and smoke. Lasts up to 12 months.
Carbon Filter
Powerful carbon booster enhancd with Arm & Hammer® baking soda to adsorb and eliminate odors.
Enhances the Aerl& filter to help eliminate household odors. Does not take the place of an Aerl® filter. Lasts 60-90 days, depending on usage.