A Rugged Flashlight That Serves All Your Lighting Needs!
From the body to the lens to the bulb, much attention has been given to keep all kinds of harsh elements at bay. The Streamlight 75810 flashlight gives you a concentrated beam for amazing illumination. You can choose from high brightness, medium brightness, low brightness, and strobe by pressing the head-mounted switch or the tailcap switch.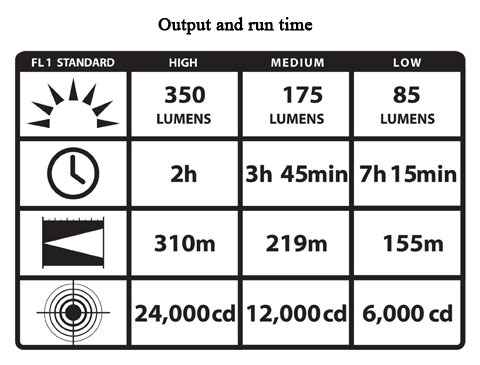 Enjoy better illumination The deep-dish parabolic reflector produces a concentrated beam with the optimum peripheral illumination. The regulated run time provides consistent performance throughout the battery life.
Three lighting modes and a strobe In order to cover as many as scenarios as possible, the Streamlight 75810 flashlight was designed to provide three lighting modes (high brightness, medium brightness, and low brightness) and a strobe. Choose high brightness for a bright super-bright beam, medium brightness for bright light with a longer run time, low brightness for light without glare and an extended run time, and strobe for disorienting or signaling your location.
A flashlight with two switches The Streamlight 75810 flashlight has a head-mounted switch and a tailcap switch. They operate independently from each other, and allow you to access the three lighting modes and the strobe. Depending on your finger positioning, choose either switch to control the flashlight. No matter the situation, you will be able to reach a switch as quickly as possible. The non-slip rubber grip gives you a comfortable experience when you hold the flashlight.
Armed to the teeth No element can stand a chance against the Streamlight 75810 flashlight. It is made of 6000-series machined aircraft aluminum, and has an unbreakable and scratch-resistant polycarbonate lens which is "O"-ring sealed. The 3W C4 LED is impervious to shock, and offers a 50,000-hour lifetime. The Streamlight 75810 comes with an anti-roll rubber ring. The included rechargeable three-cell, 3.6-volt sub-C nickel-cadmium battery (included with purchase) can be recharged up to 1,000 times, and enables a 10-hour steady charge, a 2.5-hour fast charge, or PiggyBack charger options. The Streamlight 75810 is IPX4 water-resistant, and impact-resistant to 1m.
Warranty, Returns, And Additional Information