V-Moda Black M-100-U-MBLACKM Headphone, Matte Black

Why M-100?
Superior Sound
Unrivaled Durability
Comfort, Customization, Style
Compact Portability
Detachable Microphone & Audio Cables
Video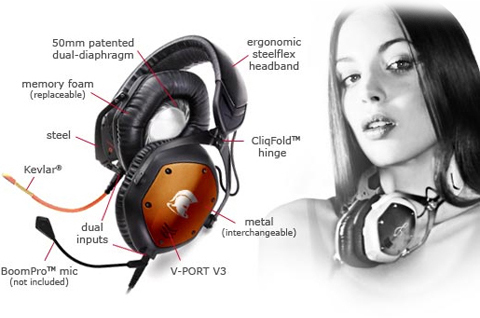 Superior Sound
"I completely fell in love with the Crossfade M-100s" -Gizmodo
Immersive 3D Soundstage – Evokes the experience of a live performance
Clean Deep Bass – Feel and hear the precise vibrations of your music without bloated boom or a muddy mid-range
Ultra Wide Clarity & Vivid Midrange – Hear lifelike vocals, crystal clear cymbals and bright hi-hats
M-100's Superior Sound is Created By:
50mm Dual-Diaphragm Driver (Patent Pending): Inner and outer rings separate bass, preventing bleeding into mids and highs
Master Crafted Materials: Higher quality drivers and components than peer headphones in this price range
Modern Audiophile Tuning: Crowdsourced with the audiophile community to fine-tune sound and ergonomics
Analog Noise Isolation: Perfect anatomical design locks out jet engines, crowd and traffic noise without active noise cancellation
No Batteries or Artificial Processing: Powerful, clear sound without the two extra digital-to-analog conversions of battery-powered headphones that pollute the purity of your music
Minimal Sound Leakage: Immersive sound for you, without bothering others
Consistent Driver Quality: The spectacular Crossfade sound is quality tested at six frequencies to maintain stricter consistency than the competition, often by an order of magnitude
Durability: Built to Last
"One of my top passive on-the-go headphones of choice, for both its sound and durability" -Head-Fi Founder, Jude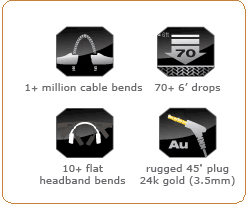 Virtually indestructible Steelflex headband
Steel frame and interchangeable aircraft-grade metal shields
Form-fitting exoskeleton case
Tested beyond military-level MIL-STD-810G quality standards


Kevlar-Reinforced cable/plug Bend: cables and 45-degree plug can bend over 1 million times (100X industry standard)
Concrete Drop: survives 70+ drops on concrete from 6 feet (10x industry standard)
Headband bend: Steelflex can bend flat 10+ times
Environmental: products stand up to high and low temperatures, humidity, salt spray and UV exposure
Comfort, Customization, Style
"V-MODA started the idea of fashion headphones in 2004..." -Stereophile + Innerfidelity Editor, Tyll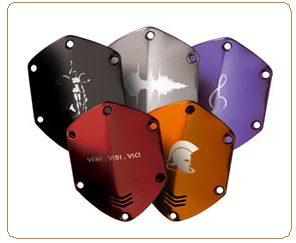 Inspired in Italy, Styled in Hollywood: Stylish colors and metal beats plastic headphones
4+ Years of Ergonomic R&D: Resulted in an ergonomic headband and hexagonal shape that contours to the natural lines of your facial features and minimizes gaps
Supple BLISS Memory Foam Cushions: Naturally forms to your ears to provide ergonomic comfort and noise isolation for extended listening sessions
Optional Custom Shield Kits: Laser engrave your logo, favorite team or change your shield color
Optional Cables & Ear Cushions: Choose from a variety of color and feature options so that you have a different headphone than everybody else
Portable Exoskeleton Case
"First full-size, audiophile-friendly headphone we've seen that you can really take anywhere" -Sound + Vision
CliqFoldtm Hinge (Patent Pending): high-precision hinge folds headphones into an amazingly small exoskeleton case with a click sound of a vintage lock
V-STRAP System: organize included cables and 1/4" adapter via the V-STRAP system inside the exoskeleton case, with extra room left over for your USB Flash Drive and V-MODA Fader earplugs
Carabiner: clip headphones on the outside of your bag for quick access
Detachable Cables: Make the Call. Share the Vibe.
Dual Inputs & V-CORK: Mix two sources at the same time or daisy chain headphones with friends; the included V-CORK seals & protects the unused input
SpeakEasytm Mic Cable: Specially tuned for voice recognition and calls in the noisiest environments, the button control universally works with all 3.5mm smartphones and tablets including Apple, Android, Windows, Kindle and Blackberry
SharePlaytm Audio Cable: Share your music on a ride or DJ tandem without adapters
Optional BoomProtm, CoilProtm & 3-Button Cables: Expand functional options with a professional-grade boom mic for gaming and Skype, a locking extended coiled cable for musicians or a 3-button mic cable for Apple in a variety of colors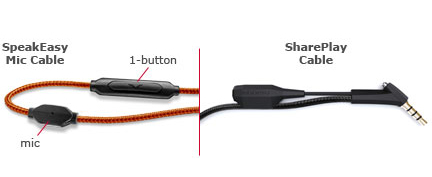 World's First Crowdsourced Headphone
"UNIQUELY DEVELOPED alongside online audiophiles, musicians, editors - a true collaboration." -Head-Fi Founder, Jude
V-MODA is the authentic music brand that fuses world-class function without sacrificing fashionable looks. Headphones are an essential tool for mobile producers and musicians who need reliable, outstanding performance and comfort for long sessions of work and listening. V-MODA was founded by a technology engineer, producer and DJ, who designed the Crossfade series to deliver professional sound for the needs of demanding globetrotters. V-MODA's reputation is built on a clear history of innovation: the Hex design/utility, dual-diaphragm drivers, CliqFold, SharePlay, CoilPro, SpeakEasy, 45-degree plug, BoomPro, V-CORK, packaging and accessories are all patented or patent pending.
The M-100 is master crafted by people that know what they're hearing. Over 200 audiophiles, world-class editors, artists, DJs and Grammy-winning musicians have collaborated for years on the tuning and features through the forums and on tour. V-MODA has made hundreds of prototypes to get feedback from the collective masterminds of the best in the business to create the first versatile crowdsourced headphone.
Two-Year Warranty - Immortal Life Program - 60-Day Test Drive
Each M-100 purchased from a Verified Reseller is backed by a 2-Year V-MODA Premier Warranty, more than double the industry average. Even if your headphones happen to get run over by a tank, with the V-MODA Immortal Life Program you get 50% off to replace them. V-MODA is so confident the M-100 is a superior headphone that we even offer an unrivaled 60-day test drive guarantee.
Technical Details
What's Included: Crossfade M-100, Exoskeleton Carry Case, Carabiner, Kevlar Reinforced SpeakEasy Microphone Control Cable, Kevlar Reinforced SharePlay Audio Cable, 1/4" Pro Adapter, V-CORK (2), Instant Six-Star Support Code, V-MODA Sticker
Type: Over-Ear Circumaural
Frequency Response: 5 - 30kHz
Sensitivity: 103dB @ 1kHz 1mW
Microphone Sensitivity: -42dB @ 1kHz
Impedance: 32Ω
Weight: 9.87oz (280g)