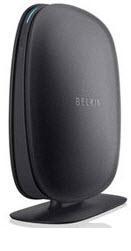 Enjoy a high-speed Internet connection for email and social networking with the Belkin N150 Wi-Fi Router. Operating at up to two times the speed of normal G technology, the N150 allows you to easily surf the Web, video chat, and use social media. A three-step setup gets your connection up and running in no time.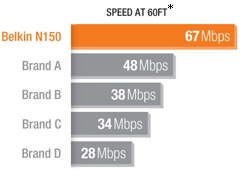 Connection Speed Ideal for Email and Surfing the Web
The Belkin N150 features speeds up to two times the speed of standard G technology, providing and maintaining a reliable high-speed connection. This makes surfing the Internet and staying in touch with friends and family a breeze.
In addition, the N150 lets you connect to the Internet on either your laptop or desktop computers, providing versatility to suit your needs.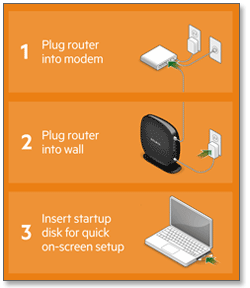 Installs Easily with Three-Step Setup
The N150 is designed for fast, easy setup. Simply plug the N150 into your modem, plug the router into the wall, and insert the included setup CD into your computer. You won't have to hassle with security settings, since the N150 comes with preconfigured Wi-Fi encryption to get you up and running safely.
Fully Compatible with G Technology
For added versatility, the N150 Wi-Fi Router can connect to older wireless networks as well as newer 802.11n networks and Wi-Fi devices that offer increased range and connection speed.
System Requirements and Warranty Information
To set up your network with the N150, you need a computer with Microsoft Windows XP 32 (SP3 or greater), Windows Vista (32/64), Windows 7 (32/64), or Mac OS X (v10.5 or above); an installed network interface card and TCP/IP networking protocol; Internet Explorer (v7 or above), Firefox, Google Chrome, or Safari; and a minimum of 512 MB RAM.
The N150 Wi-Fi Router is supported by Belkin's two-year limited warranty.
What's in the Box
N150 Wi-Fi Router, power supply, setup CD, user manual, and networking cable.
THE RIGHT ROUTER FOR EVERY HOUSEHOLD
RANGE
Maintain internet connection at farther distances
GOOD
GOOD
BETTER
BEST
BEST
SPEED (Mbps**)
More speed means faster online access
UP TO 150
(2.4GHz)
UP TO 300
(2.4GHz)
UP TO 300
(2.4GHz) + 300
(5.0GHz)
UP TO 300
(2.4GHz) + 450
(5.0GHz)
UP TO 450
(2.4GHz) + 450
(5.0GHz)
INTERNAL ANTENNAS
For better range and data transfer
2
3
4
5
6
PRESET SECURITY
Unique pre-printed security card to make sure your network is protected
?
?
?
?
?
MIMO (Multiple In/Multiple Out)
For superior data, range, and reliability
?
?
?
QUALITY OF SERVICE (QoS)
Automatically prioritizes video and gaming for uninterrupted high-speed data streaming
?
?
?
USB 2.0 PORTS
Connect USB storage or USB printer to enable file sharing and wireless printing
1
2
2
MEDIA SERVER
Stream multimedia files to DLNA/UPnP-equipped devices
?
?
?
WIRELESS PRINTING
Turn any USB printer into a wireless printer
?
?
?
GIGABIT PORTS
Connect computers, Blu-ray™ players, and gaming consoles with ultra-fast transfer speeds
?
?
?
** The standard transmission rates - 150Mbps (for 2.4 GHz), 300Mbps (for 5Ghz), and 11Mbps - are the physical data rates. Actual data throughput will be lower and may depend on the mix of wireless products used.

* Test measured average throughput within a home network when connected devices are placed at various distances from router. The Belkin router had the highest average throughput at measurements greater than 30 feet. Leading routers were determined by identifying the most commonly purchased routers that collectively accounted for a majority of router sales. The stated transmission rate is the physical data rate. Actual data throughput will be lower. Actual speed and distance will vary depending on interference, network traffic, building materials, and other environmental factors.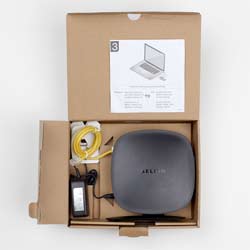 Only Accept Authentic Belkin Products!
Beware of fakes! When you receive your Belkin Router, verify that you received all items listed in "What's in the Box" and make sure packaging is intact (see photo or setup video)!
Box is tightly shrink-wrapped.
Router is neatly nested enclosed within a plastic bag.
SSID, password and security type are taped to router.
Setup CD is under the router.
Power cord and the USB cable are nested under a cardboard flap. They have white tags hanging off of the cord/cable with an illustration of how each plugs in.
Please report to Newegg immediately if you have received a product in a different or damaged package. Enjoy your Belkin router!