43XG Uni-Directional Long Range DTV Antenna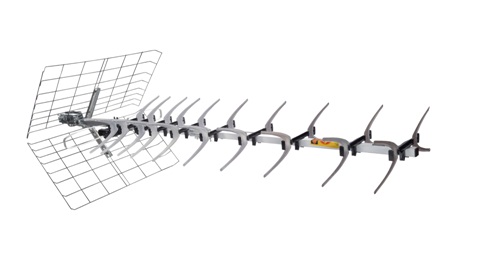 Boost your UHF signal with the 43XG from Terrestrial Digital. This 43 element Yagi style UHF antenna has a gain of 15.7dB on channels 14-69 and a front to back ratio of 27dB - making this a great option for people who live 15-60 miles or more away from the transmitter. The reflector grid on the back increases signal strength. At only five pounds this lightweight antenna is easy to get onto a high mast. This very directional antenna minimizes ghosting from reflected sources.
Technical Details
Enjoy ABC, NBC, CBS, FOX, and other local networks with their newly expanded programming for kid's, news, sports and more
Receives UHF Digital Reception resulting in Crystal Clear HDTV
The perfect backup in case of emergencies or bad weather
Range 15 to 60 Miles from Broadcast Towers
Lifetime Warranty
Included: Heavy Duty U-Bolt and Mounting Clamp
Mount and Coaxial Cable not included
Easy to Assemble
Locate the digital television Broadcast Towers serving your area by going to AntennaPoint.com and filling in your address or zip code
Product Description
From the Manufacturer
The 43XG UHF Antenna Provides Free Over-The-Air Digital and HDTV Reception with NO Subscription, Cable or Satellite Fees.
This uni-directional, Yagi style antenna is intended for long range applications ranging from 15-60 miles from the transmitters. Its 43 elements create a powerful 15.7dBi gain with a front to back ratio of 27dB. The 43XG comes with the Antenna's Direct Lifetime Warranty, which assures you of its superior build quality and durability.
Watch All Your Favorite Shows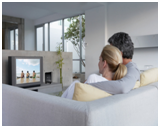 The new 43XG bowtie delivers free HD programming from TV networks such as ABC, NBC, CBS, and FOX, including all their top shows.*
The Best Picture and Sound Quality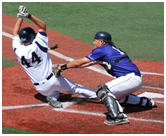 You can now experience HDTV in the highest-quality picture and sound available. Over-the-air broadcasts are transmitted in uncompressed, crystal clear 1080i; far surpassing what cable and satellite offer. Many local broadcasts are digitally aired in Dolby 5.1 Surround Sound giving you the ultimate soundstage for watching live television.
The Latest in Antenna Technology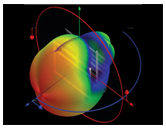 Advanced design software allows this 19"H x 18"W x 50"D antenna to be smaller and more powerful than ever. No other antenna in the category can rival its compact, powerful, dual-band performance.
It's All Free and Over-the-Air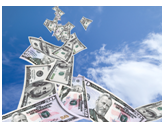 Simply connect the 43XG antenna to your TV** using a coaxial cable, perform a channel scan, and in minutes you'll be enjoying free local programming. And the best part…never pay to watch TV again!
For Use in USA & Canada Only
*ABC, CBS, FOX and NBC are registered trademarks of their respective owners. ABC, CBS, FOX and NBC are not affiliated with each other, or with Antennas Direct® and do not endorse this product. All channels are subject to local broadcast availability and not all channels may be available in all locations or in HD.
**Requires a TV with a built-in digital tuner or a simple set-top converter box
Technical Data
Physical Data:
Dimensions:
Length: 50 in.
Width: 18 in.
Height: 19 in.
Weight:
5 lbs
Turning Radius:
48 in.
Electrical Data:
Band:
UHF
470MHz to 806MHz
Channels 14 - 69
Impedance:
75 Ohms
Connector:
F-Female
Performance Data:
Peak Gain:
15.35dBi @ 800MHz
VSWR:
Max 3.5, 470MHz to 806MHz
Frequency (MHz)
Boresight Gain
(dBi)
Azimuth – Half
Power Beam Width (deg)
Elevation – Half
Power Beam Width (deg)
Front-to-Back
@ 180 deg (dB)
IEEE Rear
Hemisphere F/B
(dB)
470
9.8
52
70
27.55
10.68
546
11.32
46
59
44.67
13.12
622
12.73
40
44
26.15
17.51
698
14.2
34
43
28.33
16.39
43XG - Computed Performance Data for USA UHF DTV Band