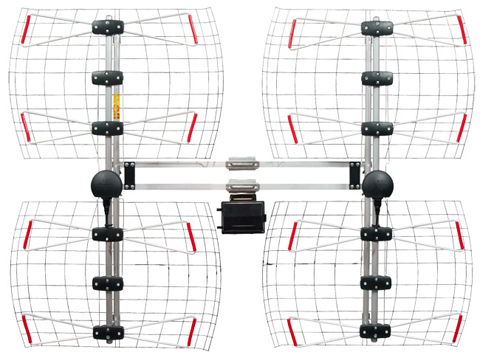 Antennas Direct DB8e Ultra Long Range Outdoor DTV Antenna
Technical Details
Enjoy ABC, NBC, CBS, FOX, and other local networks with their newly expanded programming for kids, news, sports and more
Receives UHF digital reception resulting in crystal-clear HDTV
Special brackets allow element panels to array in multiple directions targeting broadcast towers in two different locations
The perfect backup in case of emergencies or bad weather
Range of up to 70+ miles from broadcast towers
Lifetime warranty
Locate the digital television broadcast towers serving your area by going to antennapoint.com and filling in your address or zip code
Need help? Call our tech support team seven days a week at 877-825-5572
Monday - Friday 9am - 9pm CST; Saturday - Sunday, 10am -6pm
Included: Heavy duty U-bolt and mounting clamp
Mount and coaxial cable not included
Easy to assemble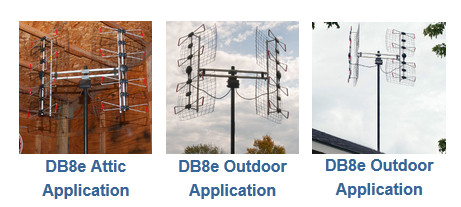 Product Description
From the Manufacturer
The DB8e UHF antenna provides free over-the-air digital and HDTV reception with no subscription, cable or satellite fees.
Bowtie antennas have been popular for over 60 years. In the past, they offered an acceptable combination of power and size, they were designed for a different era. Now, with an extreme range of 70+ miles and unsurpassed gain of 17.4dBi, this new Bowtie antenna has another capability that blows the competition right out of the water -- specially designed brackets which allow the antenna to turn in a 360° loop to target transmitting towers in multiple directions. We've brought the tried-and-true Bowtie antenna design into the 21st Century with this patented design, which enables the DB8e to target the specific core DTV channels of today. The DB8e is the ideal antenna choice for rural and suburban installation challenges with pulling signals in through heavy foliage or roofing materials when installed in the attic. The design of the DB8e allows for easy installation options that are not possible with much larger antennas.
The Antenna's Direct Lifetime Warranty assures you of its superior build quality and durability.
Watch All Your Favorite Shows
The new DB8e bowtie delivers free HD programming from TV networks such as ABC, NBC, CBS, and FOX, including all their top shows.*
The Best Picture and Sound Quality
You can now experience HDTV in the highest-quality picture and sound available. Over-the-air broadcasts are transmitted in uncompressed, crystal clear 1080i; far surpassing what cable and satellite offer. Many local broadcasts are digitally aired in Dolby 5.1 Surround Sound giving you the ultimate soundstage for watching live television.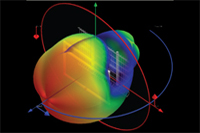 The Latest in Antenna Technology
Advanced design software allows this 37in. (H) x 50in. (W) antenna to be smaller and more powerful than ever. No other antenna in the category can rival its compact, powerful, dual-band performance.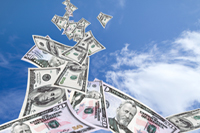 It's All Free and Over-the-Air
Simply connect the DB8e antenna to your TV** using a coaxial cable, perform a channel scan, and in minutes you'll be enjoying free local programming. And the best part -- never pay to watch TV again!
*ABC, CBS, FOX and NBC are registered trademarks of their respective owners. ABC, CBS, FOX and NBC are not affiliated with each other, or with Antennas Direct® and do not endorse this product. All channels are subject to local broadcast availability and not all channels may be available in all locations or in HD.

**Requires a TV with a built-in digital tuner or a simple set-top converter box
Specifications
Works 70+ miles from broadcast towers
Very flexible aiming characteristics
Designed brackets allow elements to turn 360

°

Weatherproof construction
High gain across entire UHF band (UHF channels 14-51)
Impedance 75ohm
Max gain 17.4dBi
Dimensions 50in (W) x 37.5in. (H) x 6in. (D)
Product Weight: 12lbs