4Port USB3.0 PCI-Express Card
USB 3.0 PCI-Express Card , Expand 4 USB3.0 Ports .
The PCI Express to 4 Port USB add-on card. It easily connects to a motherboard via PCI Express interface to add four USB 3.0 downstream ports to your PC instantly. This means you can effortlessly connect multiple USB devices to your PC. One step update your Windows or Linux computer to USB3.0 easily with PCI Express to USB3.0 Controller Adapter Card. Good quality of VL805 USB3.0 Host Controller transfer rates up to 5Gbps , 10x faster of USB2.0 , Filtering unit with solid capacitors offer a reliable and secure connectivity , supports simultaneous operation of multiple USB 3.0, USB 2.0 and USB 1.1 devices and fit in any PCI-Express x1, x4, x8 or x16 Socket, compliant with PCI Express base specification 2.0.
ORICO PVU3-Series USB3.0 Expansion Card_Driver:
This driver supports one-button installation, enables old computer to reach the speed of USB3.0
Due to frequently updated drivers, please download the latest version on our ORICO official website to enhance your using experience.
High Speed USB3.0 Up to 5Gbps Transmission
Super speed USB 3.0 supports transfer rates of up to 5Gbps; the actual transmission speed is limited by the setting of the device connected. And you can simultaneously enjoy the convenience of plug-and-play, speed up to 5 Gbps, 10x faster of USB2.0. Compatible with most standard computer chassis with available PCI Express x1, x4, x8 or x16 Slot.
5Gbps
Superspeed Data Transmission
Large 4-Pin Power Connector
Built-in 4-pin power connector receives extra power supply from system, available for some high current consumption peripherals and can support 4 USB devices work at the same time. Particularly for large data transfers from hard drive disks (2TB or above).
Large 4 Pin Supplies Adequate Power
Stable and Smooth operation
Large 4 pin power interface
Stable and abundant power supply
Operates stably even all ports connect 2.5 inch 2TB hard drive
Prompt: enclosed with a 30cm 15PIN
to big 4PIN SATA male power cord
All solid capacitor, more safe and reliable .It adopts all solid capacitor which is made of conductive polymer, is resistant to high temperature, has long life and high stability, and guarantees stable power supply of each part.
Safe and Stable Solid Capacitor
Conductive polymer
Quick and easy installation ,black PCBA steady and durable with two screws installed., Support standard PCI-E interface x1 x4 x8 x16 , Support Plug & play and hot swapping capability. USB 3.0 5Gbps speed up your desktop PC immediately,enjoy your extra large files copying. Operating system compatibility: Windows 10/8/8.1/7/Vista/XP 32/64-bit, Server 2003-2008 32/64-bit, Linux. (Not compatible with Mac OS)
Steady Support
Dual-edgefold design + consolidated by screws
Mainboard fixed bracket with dual-edgefold design is stable and durable.
With two screws installed, it and host become one.
Standard PCI-E Interface
It's made in full accordance with PCI-E standard and meets the specification of PCI-Express 2.0, PCI-E X1, X4, X8, X16 interfaces all support hot swap, when connecting/disconnecting device, you need not to close system.
This is ORICO the newest desktop 4 ports USB3.0 high speed express card.USB3.0 has already become one of the most popular interfaces in present IT world. Its previous generation USB2.0 is the interface with widest range of users in IT products, and nearly over 2billions USB devices sell out till now. USB3.0 will replace USB2.0 gradually, because it can provides higher speed up to 5Gbps. Furthermore, USB3.0 is compatible with USB2.0 and 1.1 standards 
By using this card , you can upgrade your desktop's motherboard instantly to USB3.0 high speed interface, and enjoy the great capacity and high efficient storage ability. Connecting more peripherals such as keyboard, mouse, printer, cooling fan and hard drive, doesn't affect transmission speed.
Give your computer more function,
play more external devices
More Product Detail: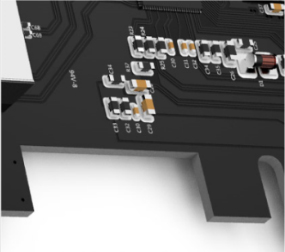 Black high-quality PCBA
4-layer PCBA processing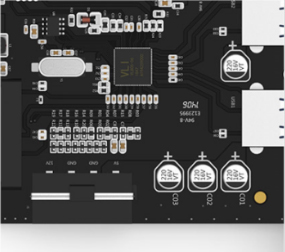 Precise electronic component
Strive for excellence, orderly arrangement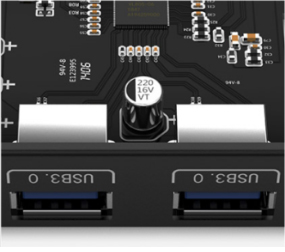 High-performance USB port
Plug and play, resistant to plug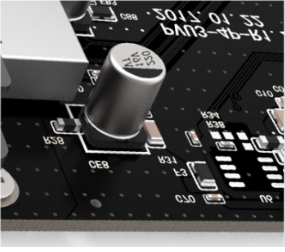 High percise filter capacitor
Elevates efficient current output
Warm prompt: 
If not the drive problem, the following steps are provided to solve your problems: 
Step 1: Make sure the devices to be attached perfectly, so the system can try another recognition search. 
Step 2: Augment with the optional power supply, so an automatic search can be retried. 
Step 3: Check the PCI-E socket on the main board to avoid possible faults. 
Step 4: Choose another desktop PC, if available, to determine the card's general functionality.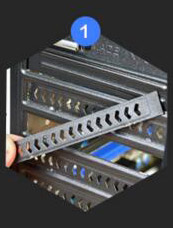 Open the chassis side cover
The PCI-E card slot and high chassis tailgate screw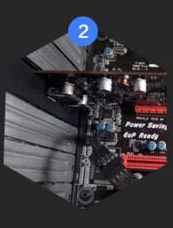 Products into the appropriate slot
When inserted in the slot, to be seated, seated.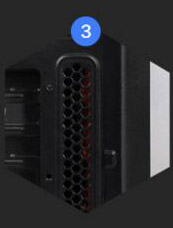 Lock screw
Inserted, use a screwdriver to tighten the screws.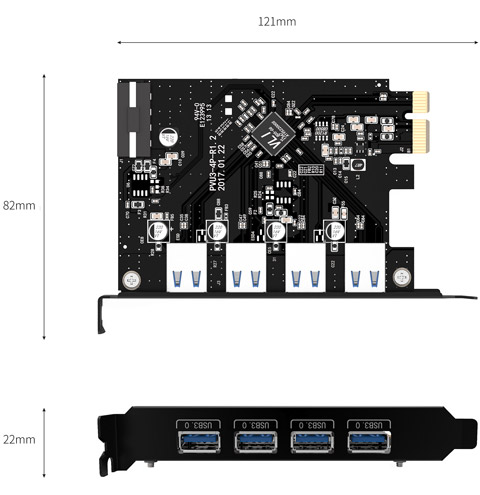 What's in the Box:
1 x ORICO PVU3-4P-V1 USB3.0 PCIE Express Card
1 x 15pin to 4pin power connector (30cm/11.8in)
1 x Mounting Screw
1 x User Manual
1 x Warranty Card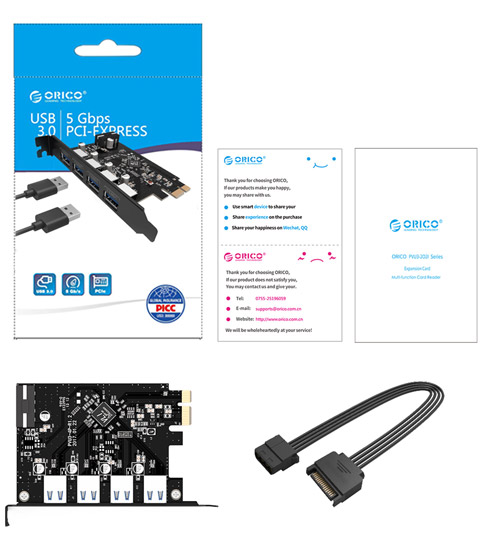 Specifications
| | |
| --- | --- |
| Item # | ORICO PVU3-4P-V1 |
| Description | 4 USB3.0 PCI Expression Card Ports |
| Input Port | PCB + Metal |
| Output Interface | USB3.0 Type-A*4 |
| Input Interface | PCI-E Host Interface |
| Power Supply | Chassis Power Supply ( 4PIN ) |
| Color | Available in Black |
| Size | 4.76 x 3.23x 0.87in (121x82x22 mm) |
| Accessories | 2 Screws, 30cm 15PIN to Large 4PIN SATA male Power  |
| Supported Systems | Windows 10 / 8 / 7 / Vista / XP and Linux (not recommended to Mac OS, Oculus Rift and Kinect 2 users) |
| LED Light | Indicate Power and Activity Status |
| Advantage | Tool Free/Hot-swap/Without Driver/Support UASP Protocol |