R-S700 Natural Sound Stereo Receiver
The Yamaha R-S7000 is an elite-class dual-channel audio receiver designed specifically for people who like spending time listening to music. With a powerful 100 watts per channel, this receiver features ToP-ART technology (Total Purity Audio Reproduction Technology) and ART Base chassis construction with dual aluminum heat sinks for crisp, clean sound. The dual-room capability allows you to connect and power speakers in another room for seamless music enjoyment. Gold–plated speaker terminals ensure durable, corrosion-free connection. A wealth of advanced features is also built in to elevate your listening experience, like continuously variable loudness control, CD Direct Amplification, along with Yamaha iPod dock connection, SIRIUS Radio Ready, 40-station AM/FM, and more.
Premium Amplifier Design for Rich Two-Channel Performance
Dual aluminum-extruded heat sinks ensure effective heat dissipation and help achieve crisp, clean sound. Gold-plated speaker terminals and RCA in/out jacks are durable and provide the highest quality connections. Pure Direct uses the shortest signal route for higher sound purity with low noise and transmission losses. And with a straight connection to the CD input, CD Direct Amplification maximizes CD source S/N ratio.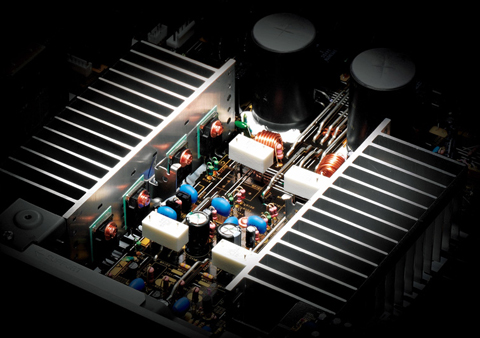 ToP-ART Technology
ToP-ART with ART Base chassis construction fully protects audio signals from noise and vibration. Digital ToP-ART (Total Purity Audio Reproduction Technology) is the name Yamaha has given to a design philosophy whose goal is to maximize digital quality while minimizing analog circuitry. The culmination of Yamaha's long experience in digital engineering and design, it brings together several key elements to create the best-sounding, A/V components available on the market.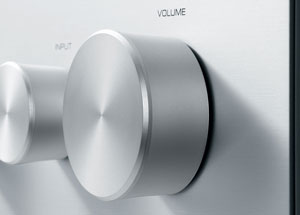 Continuously Variable Loudness Control
Yamaha's exclusive Continuously Variable Loudness Control enhances stereo listening at low volumes, so you can enjoy all the richness of your music at any volume level without sacrificing detail.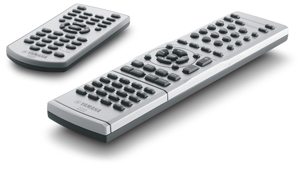 Independent Zone 2 Operation for Second-Room Audio
You can enjoy sound in a separate room because the R-S700 provides Zone 2 audio output. This receiver makes it easy for someone in another room to listen to the music and even control playback. The R-S700 has a number of specialized functions that make it convenient to use in custom installations. With another receiver or amplifier plus a pair of speakers in a second room, the people in both rooms can hear the music that is playing. With the A/B Speaker Selection switches, you can even put a pair of speakers in a third room and listen there as well. What's more, you can control playback of the main system from the second room with the Zone 2 remote control (IR repeater required, not included).
SIRIUS Radio Ready
In addition to great video and sound quality, the R-S700 lets you bring music from multiple next-generation sources into your home. In addition to 40 AM/FM station presets, this SIRIUS-Ready receiver lets you access your favorite SIRIUS Satellite Radio entertainment, including 100% commercial-free music, plus sports, uncensored talk, comedy, exclusive entertainment, world-class news and more, directly through your audio system with the use of an optional SIRIUS Connect Home Tuner kit (sold separately).
iPod Dock Support
You can even bring your own tunes to the R-S700. The built-in iPod dock port is equipped to use Yamaha's optional YBA-10 Bluetooth Wireless Audio Receiver, giving you the flexibility to stream music from Bluetooth enabled mobile phones, portable devices and even your personal computer. The optional YDS-12 Universal iPod Dock or the wireless YID-W10 iPod Dock connects the R-S700 to all versions of Apple's iPod, giving you the power to navigate and play music from your favorite Apple products.