Halo 4: Game of the Year Edition is packed with hours of new content, including the Halo 4 Champions Bundle and the War Games Map Pass at a fantastic value. As a bonus, receive over 15 pieces of in-game and avatar content from the Halo 4 campaign and the all-new Master Chief Avatar Cloak inspired by Halo for Xbox One.
An Ancient Evil Awakens
The Master Chief returns to battle an ancient evil bent on vengeance and annihilation. Shipwrecked on a mysterious world, faced with new enemies and deadly technology...the universe will never be the same.
Interactive Guide
Discover important information - like game modes and menu settings - and get a sneak peek at some of the characters, enemies, weapons, and vehicles
A "Game of the Year Edition" of Halo 4 will be offered this October, offering tremendous value for fans who want to enjoy one of the most critically acclaimed games of 2012, and additional DLC all in one place. The package will include Spartan Ops Season 1, a War Games map pass, the recent Halo 4 Champions bundle, and the digital content previous exclusive to the collector's edition.
All-new Master Chief Avatar Cloak inspired by Halo for Xbox One
Game of the Year: Halo 4 with stunning graphics and intense game play
All-new Champions Bundle including fan-favorite maps, armor, armor mod
War Games Map Pass: Nine maps for strategic multiplayer variety
Over 15 in-game and avatar items plus two premium themes
Video
Characters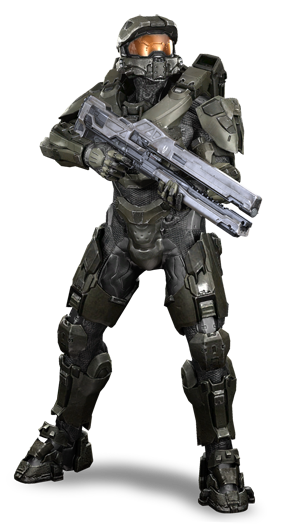 Designation: Master Chief Petty Officer John-117
Height: 7FT 2IN (218CM)
Weight: 286.6LBS (130KG)
At the age of six, a boy named John was abducted and conscripted into the top secret SPARTAN-II project where he was trained and indoctrinated for a life of combat. His body was augmented to unprecedented levels of strength, resiliency, and speed, and he was encased in the revolutionary Mjolnir battle armor. As a Spartan, he rose to the rank of Master Chief during humanity's struggle for survival against the Covenant. In 2552, his discovery of the Halo Array and its architects, the Forerunners, propelled mankind to victory, but at a cost. The Chief's narrow escape from the Forerunner installation known as the Ark eventually set him on a collision course with humanity's deadliest threat yet.
Designation: CTN 0452-9
Height: N/A
Weight: N/A
Considered by many to be the most powerful artificial intelligence ever created by humanity, Cortana was paired with the Master Chief in a last ditch effort by the UNSC to end the war with the Covenant. But as the military stronghold of Reach fell, the Chief and Cortana fled, eventually finding Halo and unlocking its secrets, an event which would lead them to the Ark. With all sentient life endangered by the Covenant, the Flood, and the Halo Array, the Master Chief and Cortana destroyed the Ark, bringing the conflict to an end. In the process, both were somehow brought to the threshold of Requiem, an ominously powerful Forerunner world with a dark secret. Cortana, now perilously beyond her operational lifespan, teeters on the brink of rampancy as this new world's threat is finally revealed.
Designation: Captain Andrew Del Rio
Height: 5FT 11IN (180CM)
Weight: 210LBS (95.3KG)
With more than 30 years of naval experience under his belt and a reputation for bringing his ships home in one piece, Andrew Del Rio was a relatively easy choice for the UNSC's captain seat on Infinity. Like many of the Navy's finest, Del Rio's career grew out of the protracted conflict with the Covenant. Infinity, however, presented a new opportunity for his leadership. Although it was secretly battletested prior to its recommissioning as a peaceful exploration vessel, the ship now finds itself at the doorstep of a mysterious Forerunner world that poses a danger unparalleled in Del Rio's decades-long career.
Designation: Commander Thomas Lasky
Height: 5FT 11IN (182CM)
Weight: 169LBS (76.7KG)
A product of the esteemed Corbulo Academy of Military Science (CAMS) prior to the Covenant's razing of Circinius-IV, Thomas Lasky hadn't always subscribed to the notion of lifelong commitment to the UNSC as the rest of his family had. This all changed during the Covenant's siege of the Outer Colonies in 2526, eventually launching Lasky into an impassioned career within the Navy, first as a fighter pilot, then as a naval officer. Now Lasky serves aboard the esteemed UNSC Infinity, as the ship's Executive Officer (XO), second only in command to Captain Andrew Del Rio.
Designation: Commander Sarah Palmer
Height: 6FT 9IN (205.7CM)
Weight: 241LBS (109.3KG)
One of the first recruits into the Office of Naval Intelligence's SPARTAN-IV project, Sarah Palmer had already been a marine for over a decade, garnering twelve tours of duty across eight different worlds, much of that time spent as a lieutenant in command of others. Due to her physical prowess, her innate leadership, and her unquestioned loyalty to the UNSC despite an upbringing by two embittered colonial parents, Palmer was an obvious choice for the program. Now she's the commanding officer of all Spartans on Infinity, providing seasoned and battle-hardened expertise in the field.
Screenshots