Free Calls with Your Home & Small Business Phones
Obihai OBi202 VoIP Phone Adapter with Router - SIP, T.38 Fax Support
Use your existing corded or cordless phone(s) and your broadband Internet to make and receive calls over the Internet for FREE (or at a very low-cost).
Via the OBi202's two (2) on-board phone connections, you have the power make and receive phone calls using VoIP services for FREE or at a fraction of the cost a traditional phone company would charge. The OBi202 supports up to four (4) VoIP services like Google Voice, Anveo, Phonepower, OneSuite or a multitude of SIP Internet phone services as well as calls to other OBi endpoints via Obihai's free OBiTALK network. The OBi202 also supports the T.38 fax standard for reliable facsimile calls over the Internet.

The OBi202 is equipped with a two-port router with integrated quality of service (QoS). The OBi202 may be installed in a variety of network environments and/or locations where upstream voice traffic needs to be prioritized above other types of traffic like web surfing and uploading pictures and movies.

The OBi202 USB port serves multiple purposes when used with Obihai USB accessory products. Using the OBiWiFi Wireless Adapter, the OBi202 can be placed anywhere within range of an 802.11b/g/n access point. The OBiBT Bluetooth wireless adapter allows a USB-equipped OBi device to pair with a mobile phone so you can place calls and answer calls using any standard home phones connected to the OBi. The OBiBT works with most mobile phones using Bluetooth wireless technology. The OBiLINE adapter allows a USB-equipped OBi device to make calls to a Land-Line Service from Phones Connected to the OBi.
Why You Will Love the OBi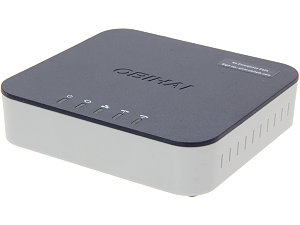 Save Money
Use free and low-cost VoIP services from OBiTALK Approved Service Providers to lower your phone bills - Maybe to nothing!
Pay Only for the Device — It's Not Locked to a Service!
Easily add VoIP services, to make & receive phone calls to and from regular numbers. In addition, OBi to OBi calls are free.
Computer Not Required
All you need is your existing home phone and broadband router.
Fantastic Voice Clarity
Talk with your family and friends anywhere in the world, from the comfort of your home telephone.