Powerline Nano AV500 1-Port Network Adapter Kit
PLA2
Extend Internet to any room using your existing power outlets
Compact size makes for discreet installations
High Performance: Up to 500Mbps with Powerline AV500
Includes an extra, pass-through power outlet
Plug-and-Play Setup: Requires no software or additional installation
The Powerline Nano AV500 Network Adapter Kit extends your network to any room using the existing power outlets. The PLA2 includes two Powerline network adapters. Simply plug one adapter into an available power outlet and connect the adapter to your router. Plug the second adapter into another power outlet in your home or office and connect the adapter to your network device. With plug-and-play setup, it's that easy. Enjoy surfing the web, watching movies or streaming music from any room! Powerline networking is ideal for homes and offices that have trouble with Wi-Fi connections or have metal walls that cause Wi-Fi interference. The PLA2 is perfect for connecting your smart TV, HD set top boxes, Blu-ray™ players, game consoles and more, to your home network. With the extra, pass-through power outlet on the adapters, you won't have to worry about searching for an extra power outlet to power your devices. The small size of the adapter also allows for discreet installations on any wall or behind media center cabinets. The PLA2 provides a secure, reliable and stable Internet connection in places where Wi-Fi signals have problems reaching. The PLA2 can also be used with an Amped Wireless Wi-Fi Access Point to extend your Wi-Fi connection through thick walls and eliminate dead spots (see below for details). Add more Powerline adapters for added connectivity in additional rooms.
HOW IT WORKS
The Powerline Network Adapter Kit extends Internet access to any room through your existing electrical wiring and power outlets.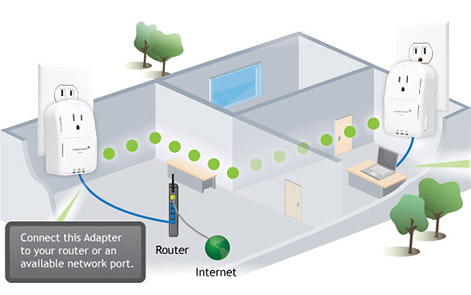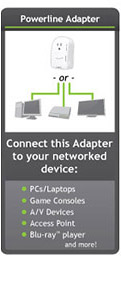 Features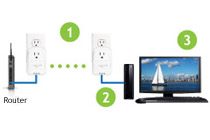 Plug-and-Play
1. Plug in the adapters
2. Connect to your router devices
3. Start streaming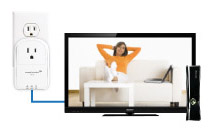 Stream in any Room
Add Internet access to any room for streaming HD media to your A/V devices.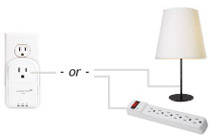 Extra Power Outlet
Sacrifice nothing! The extra power outlet lets you keep your existing devices powered.

High Speed
Up to 500Mbps*

Plug-and-Play
No software needed just plug in the adapters and your devices

Pass-Through Power Outlet
Preserve your power outlet
Compact Size
Small form factor allows for discreet installs

Universal
Connects to any device with an Ethernet port
Secure Connections
Push-button security allows for 128-bit encryption

Connect Media Devices
Use Powerline to easily connect A/V devices in your home theater
Amped Technology
Connectors and Ports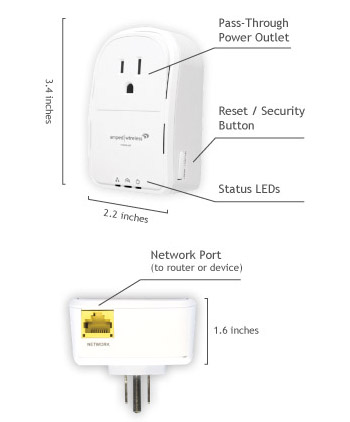 Combine the Powerline Kit with an Access Point to Extend your Wi-Fi Coverage
Use Poweriine with a Wi-Fi Access Point to push your Wi-Fi signal through thick walls and eliminate dead spots.
Purchase both products, PLA2 + AP20000G, as a bundle and save!

Features

High Speed — Up to 500 Mbps*
Powerline AV500 technology provides fast networking speeds to ensure the highest transfer rates, lag-free gaming and buffer-free HD streaming.

Universal — Works with All Networking Devices
Compatible with any networking device with a wired networking port such as computers, network switches, servers, network cameras, A/V devices and more.

Plug and Play Kit: Easy Setup
No software or additional configuration needed. Simply plug in the adapters to your power outlets and connect your network device. The Kit Includes 2 Powerline network adapters, Ethernet cables and everything else you need to get started right out of the box.

Pass-Through Power Outlet
Preserve your existing power outlets with the additional power outlet provided on the PLA2. Sacrifice nothing!
Secure Connections
The Powerline adapters come pre-paired and secured with a 128-bit encrypted connection. To add additional adapters simply push the security button on each new adapter to pair them with your existing Powerline network.
Connect Home Theater A/V Devices
Use Powerline to easily connect A/V devices to your home network. Smart TVs, game consoles, Blu-ray™ players can all access a fast, stable Internet connection through the use of a Powerline connection.

Compact Size
The small form factor of the PLA2 allows for discreet installations in any room of your home or office, or behind any cabinet in your home theater.

Extend your Wi-Fi Connection
Use Powerline with a Wi-Fi Access Point to push your Wi-Fi signal through thick walls and eliminate dead spots. (Access Point not included)