Design.
Brilliant Color. And Construction.
With an all-new design, this is iPhone as you've never seen it - or held it. iPhone 5c is beautifully, unapologetically plastic, the better to bring its five decidedly uncommon colors to life. Beneath the smooth surface of the seamless outer shell, a steel-reinforced frame provides structural integrity. So iPhone 5c feels reassuringly solid in your hand.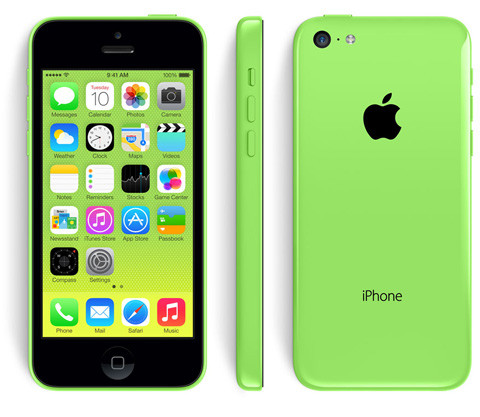 A6 Chip.
It Does Everything Fast.
Except Drain Your Battery.
Launch your favorite apps. Load your favorite blog. Download and watch the jaw-dropping video that just showed up in your inbox. Power through games with console-level graphics. Do all the things you love doing on iPhone - at the speeds you've come to expect.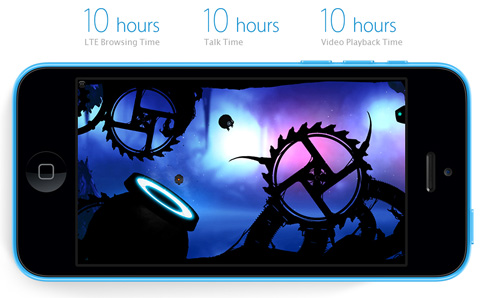 Long Battery Life.
The A6 chip is designed to be extremely energy efficient, so you can spend your day taking advantage of all the features and apps on your iPhone. Without worrying about battery life.
Ultrafast LTE Wireless.
More LTE Coverage Than Ever Before.
iPhone 5c has up to 13 LTE bands. That's more than any other single model of smartphone. Which means even more iPhone users can experience fast download and upload speeds in more places around the world. Meanwhile, the number of LTE carriers supported by iPhone worldwide continues to grow. So when you're traveling, you can take advantage of ultrafast LTE networks in more places.
iSight Camera.
It's the World's Favorite Camera for Good Reason.
And Plenty of New Ones.
The 8MP iSight camera delivers startlingly sharp photo quality thanks to features like a sophisticated five-element lens. And panorama, which lets you get stunning high-resolution shots of things like packed soccer stadiums. The San Francisco waterfront. Or the high school marching band your friend hired to play "Happy Birthday" outside your window.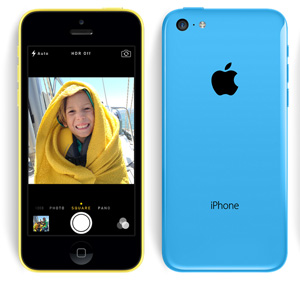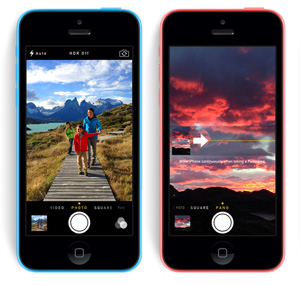 New Camera App.
iPhone 5c also comes with a new Camera app that raises your photography game. Now you can shoot images in a square format. And choose from eight live filters that can be applied before or after you take your photo. Use the Instant filter to give a group shot at the beach a vintage color look. Make a sunset even more vivid with the Chrome filter. Or choose Noir to capture a self-portrait in dramatic black and white.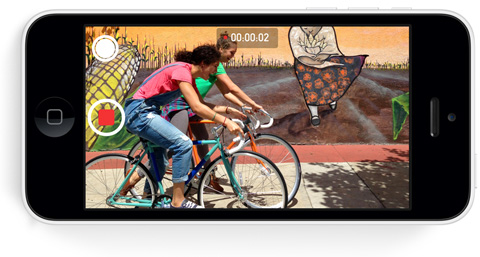 HD Video.
Now when you record video in 1080p HD, the new 3x zoom feature lets you get in tighter on your subject. Video image stabilization helps smooth out shaky footage from your high-adrenaline moments. (Running of the Bulls, anyone?) Face detection for up to 10 faces makes sure nobody gets lost in the crowd. And the ability to take still photos while recording video comes in handy when you want to tell that story within a story.
New FaceTime HD Camera.
iPhone 5c comes with a new FaceTime HD camera. Larger pixels and an improved backside illumination sensor give it increased sensitivity in low light - great for, say, letting your friend back on the East Coast experience a West Coast sunset with you. You can also make audio-only FaceTime calls with clearer sound than even wideband audio.
iOS 7.
Designed to Complement iPhone 5c Beautifully.
Cleaner, simpler icons. An interface that feels fluid and alive. And new features that make the most of the technology inside. The world's most advanced mobile OS is the perfect companion to the most colorful iPhone yet.