Plugable USB-C Flash Memory Card Reader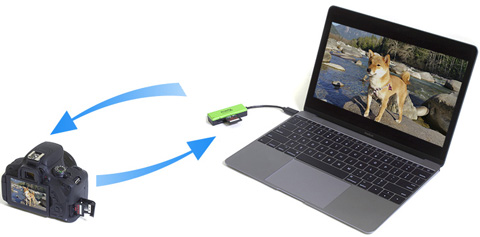 Add a blazing-fast card reader to your USB 3.1 Type-C (USB-C) computer system (e.g. the Retina MacBook 2015 (rMB), Chromebook Pixel 2015, etc.). The Plugable USBC-FLASH3 USB-C Flash Memory Card Reader supports a variety of memory card formats, and operates at USB 3.1 Gen 1 speeds, ensuring super-fast data transfer between your computer and flash media cards. It is compact for easy portability, and comes with a permanently attached flexible USB cable to enable easy connection in tight spots.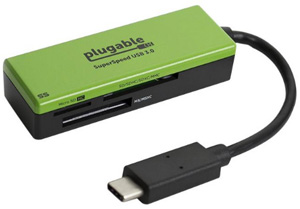 Support for a Variety of Memory Card Formats
The Plugable USBC-FLASH3 supports different flash memory card formats, including secure digital (SD) cards, MultiMediaCard (MMC) cards, memory stick (MS) cards, and more. It supports SDXC/MSXC cards up to 2 TB in size.
Note: Physical write-protect switch on SD cards is not supported.
High Performance
The Plugable USBC-FLASH3 operates at USB 3.1 Gen 1 speeds. SD, SDHC, and SDXC cards are supported in UHS-I mode up to 104 MB/sec for maximum SD card performance. The benefits of USB 3.1's increased throughput over USB 2.0 are seen on SD cards class 10 and up.
Operating System Compatibility
The Plugable USBC-FLASH3 offers driverless compatibility with modern USB 3.1 capable systems, including Windows (10, 8.1/8), Mac OS X (10.10 Yosemite and newer), and Linux (3.x Kernel and newer versions).
Mobile platforms however are more than likely not supported since 95% of Android devices with USB-C ports do not support adding on mass storage devices (rooting/jailbraking is required for this functionality). Android compatibility varies by device and is limited to devices running Android 6.0 and later with a full-sized USB-C port with storage mounting capabilities for peripherals. It is best to ask the Android device manufacturer if the Realtek RTS5307 chipset is compatible with the device before purchase.
Warranty, Returns, And Additional Information