Greenstuff™ Brake Pads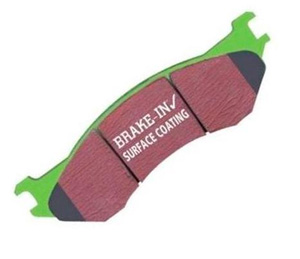 EBC medium dust fast street pad with 15% brake improvement.
Capable of repeated heavy brake use without brake "Fall-Off".
Very minimal disc/rotor damage characteristics.
Superb material for lighter model Asian and European sport compacts.
ECE R 90 type approved for most cars.
Features red "brake in' surface coating for instant safe braking after install.
Since EBC Brakes launched its sport range in 1997 EBC Greenstuff™ brake pads have sold well over 3 million sets of performance automotive brakes all over the world and has become the number one selling EBC sport pad. It is essential to note that EBC offer three ranges of Greenstuff™ brake pads, engineered for each application.
Greenstuff™ 2000 series for sport compact and hot hatches.
Greenstuff™ 6000 series for entry level truck and SUV upgrade.
Greenstuff™ 7000 low dust Truck and SUV Brakes.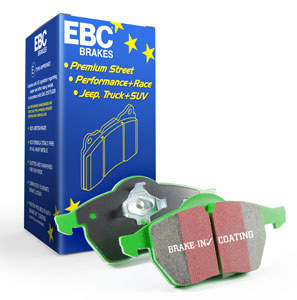 Greenstuff™ has once again pushed the performance barriers of organic friction materials. The latest version of  Greenstuff™ brake pads  are a deliberately softer compound to improve pedal feel on lighter cars at lower speeds. This resulted in a medium dust material with good lifetime and minimal rotor wear.
Tests at the UK MIRA Motor Vehicle Research Institute have shown a version of Greenstuff™ to stop a car almost 20 feet quicker than original parts on a popular hot hatch braking from 60 MPH offering a huge 15% brake improvement.
Product Information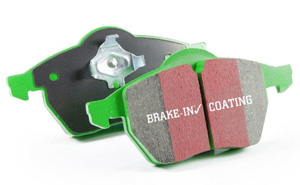 Greenstuff™ 6000 series is regarded as a first level brake improvement over stock and can deliver up to 15% improvement in stopping power. However Greenstuff™ 6000 is not a hard and long lasting pad and drivers may find Greenstuff™ last less miles on light Trucks and SUV than stock units which in our opinion are designed primarily to pass the warranty period but 6000 are a good quality pad replacement with medium dusting and good brake effect.
Greenstuff™ 7000 series are a slightly harder pad than its 6000 series stable mate and designed to Reduce Dust and last slightly longer than the 6000 series. Again a great pad and a quality pad replacement for Truck and SUV (4 x 4).
When replacing brakes of any kind please remember how important brake safety is to your own well being and either have a professional mechanic install your new brakes or if you are a qualified mechanic use the EBC installation DVD as a guide in support of your vehicle owner's manual.
The entire green range is approved to ECE R90 for highway use. 
EBC Redstuff should be used at both front and rear for optimum balanced brake performance.
Greenstuff™ Series
Greenstuff™ – 2000 Series Brake Pads
EBC Greenstuff™ has a high initial brake effect and gives drivers confidence from first application of the brake pedal. There is no such thing as a no dust pad. The very nature of how a brake works requires that some dust be generated to avoid rotor vibration (shimmying). The EBC pad creates less dust and dust is more easily washed off than most. All pads create more dust as they are bedding in especially if rotors are worn. Nominal friction coefficient 0.55. For heavier faster cars we strongly recommend Redstuff which does offer much less dust.
Greenstuff™ – 6000 Series – 4×4 (SUV and Light Truck) Brake Pad
Upgrade pad for Light Truck and SUV improves brake effect 10-20%.
Medium dusting factor makes these cleaner pads than stock.
Capable of repeated heavy brake use without brake "Fall-Off".
Very minimal disc/rotor damage characteristics.
Suitable for all light trucks, Jeep and SUV in highway use.
Superb brake control and pedal response full grade better than stock.
Minimal dusting features makes this a clean pad compound.
Features red "brake in' surface coating for instant safe braking after install.
An excellent solution for 4×4 use, this heavy duty Greenstuff™ formulation has slightly lower friction than its 2000 series counterpart (average friction coefficient 0.45mm) but has the benefit of longer life and better resistance to offroad conditions of dust and sand etc. It has an extremely low rotor wear factor and medium-to-good lifetime.
Greenstuff™ – 7000 Series – 4×4 / SUV Supreme Brake Pad
For a small price premium over the 6000 series, these pads are the ultimate SUV / 4×4 front end pad. They will stop faster and last longer with almost zero brake dust and are EBC's premium offering for heavy 4x4s. These pads are guaranteed noise free. Average friction coefficient 0.45mm. Features and benefits include chamfers and slots, shimmed, and coated with EBC's own Brake-In friction accelerator for fast bed-in.