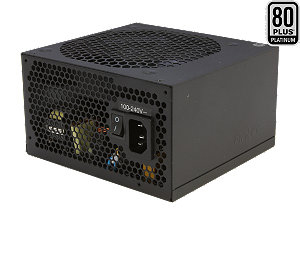 Antec EarthWatts Platinum Series EA-550 550W Power Supply
ATX12V / EPS12V SLI Ready - CrossFire Ready - 80 PLUS Platinum Certified - Intel Haswell Fully Compatible
Antec's EarthWatts Platinum is one of the most efficient PSU series ever created. With an 80 PLUS® Platinum rating, the highest efficiency mark for power supplies, this PSU achieves up to 93% efficiency and gives you savings unheard of from other power supplies. By using the EA-550 Platinum, you can reduce your computer's power consumption by 25%. A three-year Antec Quality warranty, a whisper-quiet 120mm DBB fan controlled by Antec's renowned Thermal Manager and CircuitShield™'s industry-leading seven levels of protection make the EA-550 Platinum one of the best choices available. Get the power you need, save money and help protect the environment with Antec's EA-550 Platinum!