34" 21:9 Ultrawide Monitor with 3-Sided Ultra-Narrow Bezel and SVA Panel
With its new MultiSync EX Series, NEC has developed monitor solutions that push the boundaries of what you've come to know as business-class screen performance. The EX341R delivers an immersive experience with enhanced features, advanced technologies, future-proof connectivity and environmentally friendly benefits in a package with ultra narrow bezels and a slim design.

Highlights
1800R curved SVA screen with small bezels on all four sides (1.55mm each)
Touch-sensitive on screen menu controls for easy navigation making display adjustments easier than ever
DisplayPort 1.2 in and out in supports both single stream transport (SST) or multi-stream transport (SST) for convenient multi-monitor connectivity
Ergonomic stand includes height adjustment, rotation and tilt
Smart sensor technology including human and ambient light sensor that automatically adjust to your working conditions
Features
Ultra Thin Design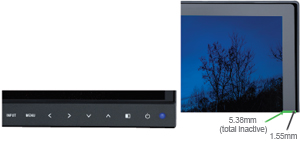 The MultiSync EX341R features some of the industry's smallest bezels at 1.55mm on each side. In addition, the slim cabinet is only 60mm from the front of the panel to the VESA mounting plate. Front on screen display (OSD) controls have been moved to a 5-way control button on the back.
---
DisplayPort 1.2 in and out, HDMI 2.0 and 1.4 as well as a USB 3.0 hubs with DisplaySync ProTM connect you to the latest peripherals and future-proofs your investment.
Each EX341R features a USB 3.0 hub with two upstream connections and three downstream connections. This allows you to connect two different computers using the USB port and share a keyboard, mouse and a third device between the two computers with the push of a button.
IT-Friendly Features
Customize Setting allows both users and IT administrators to set and restore preferred settings with just one touch, contributing to a free-seating business environment.
The optional NaViSet™ Administrator 2.0 software offers an intuitive graphical interface, allowing for easy adjustment of display settings via mouse and keyboard. NaViSet Administrator provides all the advanced control to remotely located IT professionals.
Smart Sensing Technologies
The included smart sensing technology includes ambient light and human sensors, which considerably reduce power consumption by automatically detecting your work conditions and adjusting to the proper display brightness or entering Power Saving Mode. The ambient light sensor and human sensor can reduce power by up to 87% and 95%, respectively, compared to typical energy consumption.
Multiple Monitor Technologies
The ground breaking ControlSync™ technology allows users to control up to 25 select MultiSync EX Series units in a multi-monitor configuration. Upon establishing one unit as the master, you will be able to simultaneously control up to 26 settings of the multi-monitor setup through the master monitor. The EX341R also has a DisplayPort 1.2 input and output, allowing multiple screens to be connected through one DisplayPort input.
Curved Panel for an Immersive Workspace
The 1800R curved screen wraps around the user, providing a seamless, immersive workspace. The SVA panel provides great viewing angles so that the image looks amazing from any position.