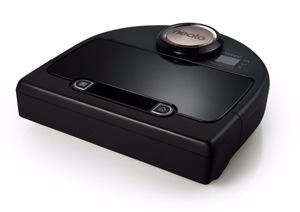 Neato Botvac WiFi Enabled Robot Vacuum Cleaner
Robot vacuum WiFi enabled for complete control anywhere anytime.
Laser navigation maps the room for accurate cleaning.
D shape design gets close to walls and corners.
Lithium battery increases run times and life span.
Two new cleaning modes: Eco Mode and Turbo Mode.
Ultra filter captures up to twice the debris than competitors.
Details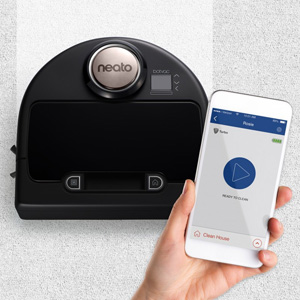 The Neato Botvac Connected is a Wi-Fi enabled robot vacuum that lets you control your vacuum from wherever you are. The app makes everything easier - set a schedule, set your robot to clean from wherever you are, clean your whole house, or choose spot clean, stop or pause the robot, and get instant notification about the status of your vacuuming run. Basically, you can get everything done from your phone.
And two new cleaning modes are introduced with this model. You can choose between Eco Mode for a longer, quieter energy saving clean, or Turbo Mode for super-powered cleaning, with maximum pick up. Eco Mode will clean for up to 120 minutes while Turbo Mode has a run time of up to 90 minutes.
Another new addition is a ultra performance filter. It captures up to twice the small particles (0.3 microns) compared to competitors. And the design makes it easy to pop out when emptying the dirt bin and the mesh screen keeps dirt from accumulating on the filter, making it easier to clean.
There's also a new high capacity Lithium Ion battery. This increases the robot's vacuuming run times and gives it a longer life span than a conventional battery. The Connected can clean between 4000-5000 Square feet in ECO mode while the regular Botvac and D-series is around 2500 Square feet.
Like other Botvac models, this will continue to use Neato's patented Neato Botvision™, its breakthrough robotic mapping and navigation software so it knows where to clean while avoiding obstacles.
Benefits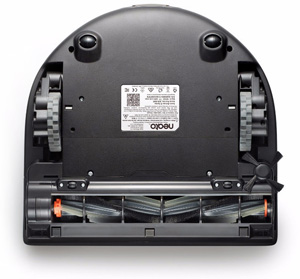 Anytime Anywhere Vacuuming
When Botvac Connected is paired with a home Wi-Fi network and the Neato app, users can remotely set up a regular vacuuming schedule, start a full house or spot clean, stop or pause the robot and get instant notifications about the status of the vacuuming run.
Remote Control App
You can direct the robot's vacuuming path right from the Neato app when connected to the home network, moving Botvac Connected to clean wherever the user chooses.
Smart Mapping
Neato's patented laser distance system continually scans the room, making instant decisions based on input from its external sensors. This enables Botvac to create detailed and accurate maps of its environment and methodically clean in an organized back and forth pattern, leaving the straight carpet vacuum lines.
Spin Flow System
Combines powerful vacuum suction and precision brushes to leave floors immaculately clean. Botvac Connected effortlessly picks up stuff like dirt, crumbs, dust bunnies, and pet hair. And, with its D-Shape design and CornerClever technology, Neato gets to where dirt hides--in corners and along walls.
Schedule or Auto Clean
Simply push start or automatically schedule cleanings. Botvac Connected automatically vacuums multiple rooms on its own, effortlessly transitioning from room to room and from one floor surface to another.
Avoids Obstacles and Furniture
As Botvac Connected scans the room, it senses objects in its path, like furniture and toys, and carefully navigates around them. It even detects and avoids stairs. Unlike other robot vacuums that require wall-mounted blocking sensors, simply drop down easy-to-use boundary markers to keep it away from places you don't want it to go.
Complete Cleaning Coverage
Hugs walls and gets under furniture where dust bunnies hide. With its unique D-shape design and 50% larger brush than round robots, Botvac Connected cleans within 10 millimeters of the wall. Plus its low profile allows it to clean under beds and in other hard-to-reach places where dust bunnies collect.
Product Dimensions (Inches): 12.7 x 13.2 x 3.9
Product Weight: 9 LBS
Warranty: 1 Year Limited Warranty
In The Box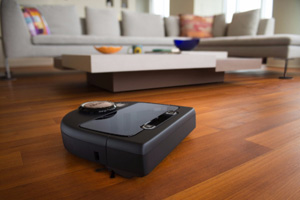 High Performance Robot Vacuum
Integrated Charge Base
Power Cord
Spiral Blade Brush
Combo Brush
Ultra Performance Filter
Side Brush
Boundary Markers
Brush and Filter Cleaning Tool