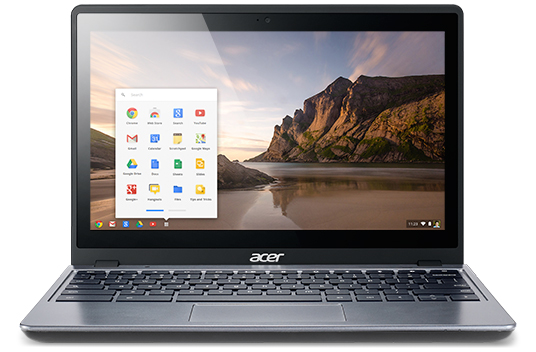 Acer Chromebook C720P 2625
A powerful Chromebook with touch
Acer extends its industry-leading Chromebook line by adding touch! This 11.6" Chromebook is running Chrome OS which is optimized for web experience, and runs your favorite Google apps plus thousands more. It starts in seconds, is powered by the powerful yet power-sipping Intel processor based on Haswell micro-architecture and now features an intuitive 10-point touch display. Tap and swipe your way through the world whether it's running your favorite Google app, watching videos, playing games, exploring the Internet, or just getting work done.
Grade B refers to units that may have dents, chips or scuffs on the body, keyboard may be shiny or worn down and hair line scratches or scuffs on the screen.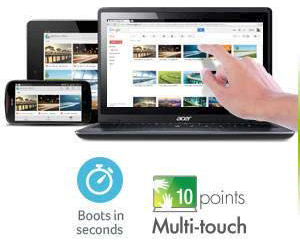 Introducing Acer's First Chromebook with Touch
Acer introduces its first Chromebook with touch, the C720P. Enjoy the benefits of a Chromebook (fast boot times, automatically updates and multiple layers of security) with high performance, great battery life and an 11.6 inch touch display making interaction with the Chromebook natural and intuitive.
The 10-point multi-touch display makes your digital life more intuitive, more electric, more fun! Experience efficiency hands-on as you run your favorite Google apps or browse through your photos, videos, music and documents from anywhere —using nothing but your fingers.
The 11.6 inch HD display enables students and families to enjoy the Chromebook outside in sunlight for classwork, reading, playing games and more. Crisp resolution brings family closer during video chats, and a tilt angle of up to 145° brings the best view whether your sitting or lying down. Want bigger? Extend your view to your big screen via the HDMI port.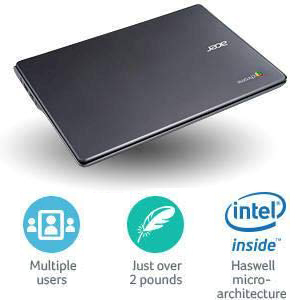 Thin, Light and Powerful
The Acer C720P Chromebook measures only 0.78 inches thin and weighs only 2.98 pounds making it easy to take to class, meetings or anywhere.
Powered by an Intel Celeron processor, the Acer C720P delivers a great experience on the web. It can load content-rich webpages quickly and easily, provide crisp video playback, and enable you to multitask effortlessly by allowing multiple pages to run at the same time.
Feel safe sharing your C720P Chromebook with friends, family and even the occasional guest. Each user has their own login, files, apps and settings, so you never have to worry about anything getting messed up by someone else.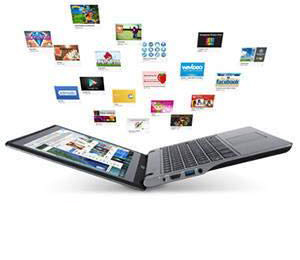 Ready for Work or Play
Chromebooks come with popular Google products built in: Search, Gmail, YouTube, and Hangouts, so you can work, play, and stay connected right out of the box. Create documents, spreadsheets, presentations and drawings with apps like Google Docs, Zoho and SlideRocket. Enjoy full screen video chat with up to nine friends using Google+ Hangouts.
The Chrome Web Store offers thousands of free apps, themes, and extensions to help you make the most of your Chromebook. Watch movies, play games or get work done (if you really have to). The Chromebook will keep it all fresh with automatic updates.