Phantom 3 Professional
Included 4K Video / 12 Megapixel Photo Camera
Integrated 3-Axis Stabilization Gimbal
Easy to Fly, Intelligent Flight System
Live HD View
Dedicated Remote Controller
Powerful Mobile App w/ Auto Video Editor
Vision Positioning for Indoor Flight
EPIC AERIAL VIDEO
4K video Camera
With the Phantom 3 Professional, you're shooting 4K video at up to 30 frames per second and capturing 12 megapixel photos that look crisper and cleaner than ever.
3-axis Stabilization Gimbal
With DJI's industry-standard gimbal stabilization technology, your camera is held perfectly stable no matter how you fly. The 3-axis gimbal makes complex shots and hovering for long exposure photos easy.
Live HD View
Experience a new view of your world, over distances up to 3.1 miles (5km)* and in real time. Simply connect your phone or tablet, and a 720p HD view of everything your camera sees as you fly is displayed live. This immersive view streams to you in absolute clarity, enabling you to get that perfect shot and experience flying in a unique way.
*Maximum range tested in open areas free of interference and may vary depending on local regulations.
EASY TO FLY
Your Phantom 3 Professional fits into your life and makes flying remarkably intuitive and easy. From takeoff to landing, it's completely under your control, responding to your commands while automatically handling the most complex aspects of safe, stable flight.
Safety Features
Unparalleled Safety for First-Time Pilots
A unique Beginner Mode helps you learn how to fly in a safe, limited area. Your Phantom 3 professional can be set to fly only within a given distance and altitude from you, protecting your Phantom and making it automatically stay inside your desired limits.
Worry-Free Autopilot
Automatic elements of your Phantom 3 Professional's intelligent flight system help you fly and are available at the touch of a button.

Auto-Takeoff
With one tap in the DJI Pilot app, your Phantom 3 will turn on its motors and rise to a pre-set height. It will then hover perfectly in place until you direct it where to go.

Auto-Return Home
When GPS is available, your Phantom 3 remembers the exact spot that it took off from. Wherever your aircraft is flying, tap a button to have it return right back home.

Failsafe
If the Intelligent Flight Battery is running low, or if your Phantom 3 loses the connection with your remote controller for any reason, the aircraft will automatically return to the takeoff point and land safely.
Vision Positioning
Fly indoors, low to the ground, and in GPS-free areas with Vision Positioning technology. Visual and ultrasonic sensors scan the ground beneath your Phantom 3 Professional for pattern, enabling it to identify its position and move accurately.
COMPLETE CONTROL
Keep your Phantom 3 Professional fully under your command while accessing the most-used features right on the included remote controller. Giving you full control at nearly triple the range of previous Phantom models - up to 3.1miles (5km)* - is the built-in DJI Lightbridge, which handles all communication to and from your Phantom 3 Professional.
*Maximum range tested in open areas free of interference and may vary depending on local regulations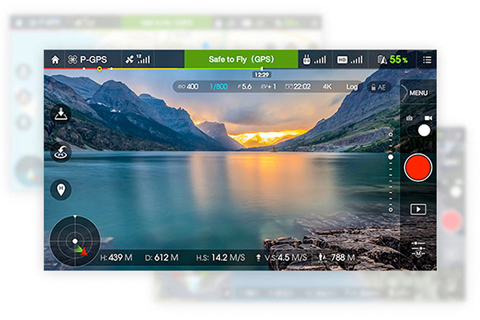 Powerful Mobile APP
Complete power is at your fingertips. Control the camera and change flight settings, all from your mobile device. Plus:
Compatible With Most DJI Products
Live HD View
Instant Video Downloading
Easy Video Editor
Comprehensive Media Library

Sharing and Connecting Creativity
Live Map and Radar
Detailed Records and Achievements
Manage Your DJI Account
Intelligent Battery
Higher voltage, more energy, and greater power combine to give you a vastly improved flight experience. This upgraded Intelligent Flight Battery has built-in sensors and bright LEDs that let you know the status and remaining power of your battery in real time. Your Phantom 3 Professional continuously calculates its current distance from you so you always know how long you can continue flying and when it's time to recharge. Recharging is fast and easy, and the Phantom 3 Professional comes with an upgraded charger for substantially reduced charge times.

SDK Development

Control the Camera

Access Real-time footage

Gather Flight DATA
Follow Me

Ground Station

Point of interest
Tested By Experts. Ready For You.
Every DJI Refurbished aircraft is thoroughly tested by DJI Experts. There are no better experts in DJI products than those at DJI. Every refurbished product has undergone a professional refurbishing process that brings it up to the same high standards as brand new products, and all refurbished products come with new parts, new packaging.
What's in the box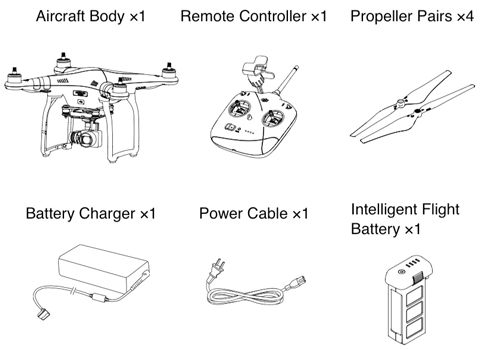 DJI Refurbished Product FAQ
Q1. What are DJI refurbished products?
The products sent back by customers within seven days after he/she confirms receipt will be strictly examined, refurbished and repackaged, and sold as DJI refurbished products. Currently offered DJI refurbished products include the Phantom 3 Standard/Advanced/Professional.
Q2. Are DJI refurbished products' quality guaranteed?
DJI promises you that every refurbished product is tested thoroughly, and that the quality and the appearance of refurbished products is the same as with new products.
Q3. Can I purchase DJI CARE for refurbished products?
Yes, you can purchase DJI CARE for a refurbished product. The coverage amount will be the same as for a new product.
Q4. How do I identify refurbished products?
The serial number of refurbished products will end with an "R".