This product was funded by backers on Indiegogo, the crowdfunding platform built for entrepreneurs to take their projects from concept to market. It's the go-to place to find, fund, and help shape new innovations emerging around the world.
BeanPlus Cold Drip Brewer Basic Package
BeanPlus Cold Drip Brewer is a true cold brew coffee maker that crafts excellent and delicious coffee using a unique drip method. Artfully designed with a patented slow drip valve allows you to adjust your drip speed depending on how strong you like your coffee.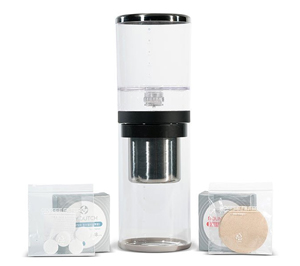 The non-clogging mechanism in the valve combined with its very own water filtration systemallows the brewer to purify your water and achieve a completely constant drip rate from beginning to end of brewing.  It produces up to 15.5  oz of rich and smooth coffee extract.  
This basic package is being offered at an exclusive pre-order price and includes 50 water filters plus 100 round coffee filters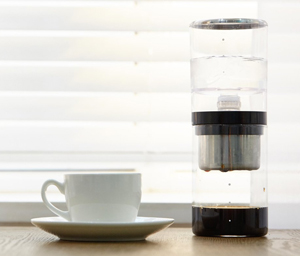 Unlike most cold brewers which use a total immersion method, BeanPlus utilizes a drip technique using its patented slow drip valve that allows the user to achieve a constant drip rate evenly spreading the cold water over the grounds. BeanPlus only takes a minimum of 5 hours brewing time as opposed to conventional cold brewers taking well over 12 hours.
BeanPlus Brewer's particular design is not only visually appealing but highly functional as well. Using absolutely NO electricity, the BeanPlus relies on the power of gravity to slowly drip the liquid through the machine. During brewing, its airtight form prevents any outside contaminants from coming into the brewer making it a very hygienic solution. It is made of very durable materials including PYREX heat-resistant glass, stainless steel, and PETG plastic.
All of its parts disassemble within seconds for very easy cleaning. The carafe and stainless steel coffee basket are even dishwasher safe. It is very portable allowing easy brewing on the go whether you are at work, on a picnic, or camping with the family. 
Complete with a detachable carafe that allows the user to save their cold brew for later, BeanPlus is a sophisticated brewer fit for any kitchen. Make mouth-watering Americano, café lattes, affogato, cappuccino, or even use the brewer to craft a wonderful cup of tea!
Patented adjustable slow drip valve
Non-clogging drip mechanism
Built-in water filter
Hygienic air-tight design
Reinforced glass and stainless steel
Electricity-free brewing
Simple setup and easy clean up
Effortless Setup for Everyday use
Simplest cold drip system for the most sophisticated taste buds

Easy to Use, Easier to Clean
All of its parts disassemble within seconds for easy cleaning. Its even dishwasher safe!
Compact and Portable for on-the-go Use
Its compact structure allows you take your BeanPlus with you on-the-go anywhere you desire! Easily stow it in your luggage and savor the taste of fresh cold brew at your favorite vacation spot. Even detach the glass server from the system to save and store your freshly made coffee for later in the refrigerator!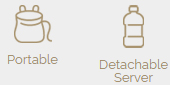 Reinforced Glass for Ultimate Durability
Made from the finest glass makes for a device resistant to high-heat exposure and cracking. Its durable nature ensures the BeanPlus brew you excellent coffee for years.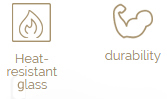 Combining Environmental Concern with Cold Brew Perfection
Developed with the environment in mind, the Cold Drip Brewer has been crafted using sustainable materials and even requires absolutely no electricity!