Increase the speed, durability, and efficiency of your system for years to come with the Crucial MX300 SSD. It's crafted with top quality 3D NAND flash chips and the state-of-the-art Marvell controller, delivering significant boost to every aspect of performance with extremely fast read/write speed. Your system boots up faster, apps load in seconds, and multitasking is more responsive. In addition to its raw performance, the MX300 also provides superb protection for your valuable data with AES 256-bit hardware-based encryption and its Exclusive Data Defense technology. And with low power usage, shock resistance and light weight inherent to SSD technology, the MX300 will bring a new life to your desktop/laptop computer.
Available in 2.5" and M.2 2280 form factors to suit your specific needs.
Instantly Improve System Performance
The Crucial MX300 reaches read speeds up to 530 MB/s and write speeds up to 510 MB/s 1 on all file types so you can boot up almost instantly, reduce load times, and accelerate demanding applications with ease. Plus, the Dynamic Write Acceleration technology uses an adaptable pool of high-speed, single-level cell flash memory to generate blistering speeds throughout the drive's long life.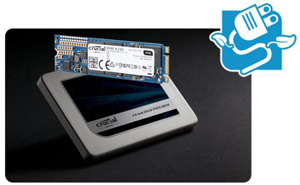 Over 90x More Energy Efficient than a Typical Hard Drive 2
Extreme Energy Efficiency technology within the Crucial MX300 reduces the amount of active power usage that's consumed by the drive. The Crucial MX300 extends your laptop's battery life by using only 0.075W of power, compared to a typical hard drive which uses 6.8W.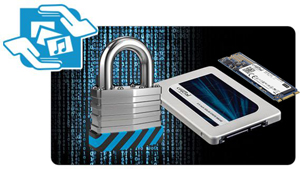 Entrust Your Files to a Drive That Lasts
With an endurance rating of up to 220TB total bytes written, the Crucial MX300 is engineered with Micron 3D NAND to deliver years of fast performance. The 3D NAND leverages larger NAND cells to improve performance and prolong endurance.
Protect your data with AES 256-bit hardware-based encryption, RAIN technology, Exclusive Data Defense technology, and the durability inherent in SSD design.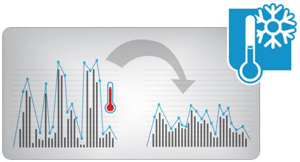 Keep Your System Cool
In addition to lower active power usage, Adaptive Thermal Protection technology dynamically adjusts storage component activity. This helps keep your system cool and minimizes the risk of damage caused by overheating.
Boost Drive Performance by up to 10x With Crucial Storage Executive 3
This downloadable tool is easy to use and helps monitor and enhance the performance of your Crucial MX300 – update to the latest firmware and enable the Momentum Cache feature in Storage Executive to instantly improve burst performance.
1. Based on the published specs of the 525GB model. Speeds based on internal testing. Actual performance may vary.
2. Active average power use comparison based on published specs of the 750GB Crucial MX300 SSD and the 1TB Western Digital Caviar Blue WD10EZEX internal hard drive, which, as of January 2016, is one of the industry's top-selling internal hard drives. All other capacities of the Crucial MX300 SSD have comparable active average power consumption specs, with the exception of the 2050GB version of the drive, which consumes 0.15W.
3. Validated by testing included in the "Enhance Burst Performance on Micron and Crucial SSDs Using Momentum Cache" whitepaper,