OVERVIEW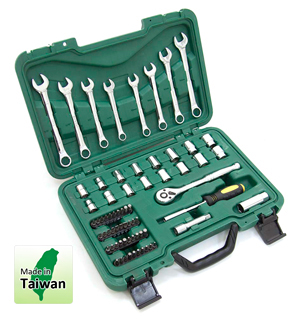 Made of high quality chrome vanadium steel for long lasting strength and durability, and with mirror finishing for corrosion resistance and easy cleaning, the Arsenal Tools 73-Piece Professional Socket, Wrench and Bit Set comes with 16 different 3/8" drive sockets in both SAE and metric sizes for wide-ranging use, a 5/8" spark plug socket, a pear-head ratchet with 72 teeth for precision ratcheting, eight combination spanners in SAE and metric sizes, a 3" extension bar, 40 different 25mm bits, and a soft-grip magnetic bit screwdriver handle. It's all packed in a heavy-duty blow mold carrying case for long-lasting and easy mobility. Meets or exceeds ANSI standards.
SPECS
Model: TSM373ABP-ASN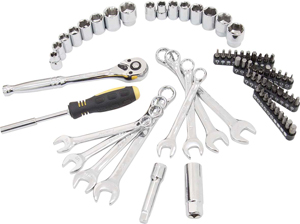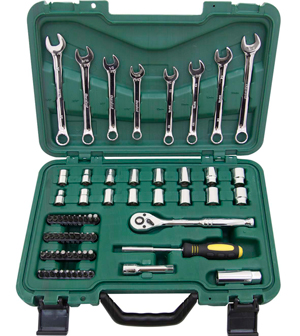 Material: CR-V; Mirror Finish
Packing: Color Sleeve + Shrink Wrapped
16 3/8" Dr. sockets:

SAE: 5/16, 3/8, 7/16, 1/2, 9/16, 5/8, 11/16, 3/4"
Metric: 8, 10, 12, 13, 14, 15, 17, 19mm

1 - 3/8" Dr. 72 Teeth Ratchet Handle
8 - Combination wrench:

SAE: 7/16, 1/2, 9/16, 5/8"
Metric: 12, 13, 14, 15mm

1 - 3/8" Dr. Spark Plug Socket: 5/8"
1 - 3/8" Dr. Extension Bar: 3"
1 - Magnetic Bit Screwdriver handle
40 - 25mm Bits with 4-Bit hold

SL 1/8", 5/32", 3/16", 3/16", 1/4", 1/4", 5/16", S1, S2, S3
T10, 15, 20, 25, 27, 30, 40, PZ1, 2, 3
ADP, ADP, PH0, PH0, PH1, PH1, PH2, PH2, PH3, PH3
H3/32", 1/8", 5/32", 3/16", 1/4", 3, 4, 5, 6, 7mm

1 - Blow Mould Case - 356U Green
Warranty
Lifetime Warranty
I. Warranty Information
The warranty terms only apply to ARSENAL brand products, unless "Does not comply with lifetime warranty," "warranty period," and "range of non-free repair or replacement" terms are marked on the product package or samples. If the product function is damaged during normal usage, the products can be free repaired or replaced.
II. Range of Non-Free Repair or Replacement
1. Products which do not belong to ARSENAL brand and logo.
2. Package or label on ARSENAL products / samples marked "does not comply with lifetime warranty," and "warranty period"
3. Improper transport process damaged package, but the product appearance and function are not damaged.
4. Natural Disaster, Human Error, Accident
5. Misutilization caused product malfunction; user directions were not followed and exceeded the utilization limitation.
6. Product parts are disassembled or replaced. Accessories are lost and incomplete.
7. After utilization, tools rusted, plating peeled, scratched, dented, plastic handle was damaged, but the main function was not influenced.
8. Packaging material was damaged during utilization. (Ex: Color Box, Metal Box, Aluminum Case, Blister, Color Card, PE Bag)
9. Tools in misutilization are not comply with the warranty terms.

Ex:
1) Screwdriver used as a crowbar or chisel,
2) Hand tools used as power tools,
3) Electrical products connected to wrong power source,
4) Using tools over torque loading,
5) Using Copper wire cutting pliers to cut iron wire,
6) Using long nose pliers to twist and wind objects,
7) Utilization of gear wrenches over torque limitation.
Graphic 1, 2, 3, 4: Improper utilization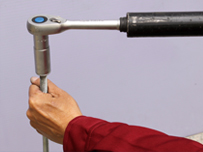 Graphic 1
1. Do not lengthen the handle! The handle of gear wrenches will dent or plating will peel. This reveals that the gear wrenches have been used abnormally, such as being hit by a hammer.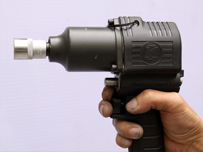 Graphic 2
2. Do not use hand sockets as power sockets! Hand tools cannot be used as power tools. The square hole of sockets will show significant damage or cracks. (Impact socket must be used with impact hole or grooving.)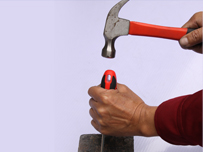 Graphic 3
3. Do not use hammer to hit screwdrivers ! Screwdrivers cannot be used as crowbars or chisels. (The peak will have distinct damage and breaks in the connection points.)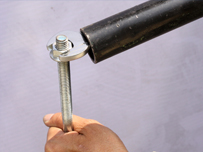 Graphic 4
4. Do not lengthen the wrenches! Wrenches cannot be used as crowbars, over torqued or be hit. (Bent, twisted, Cracked)
Graphic 1, 2, 3, 4: Improper Utilization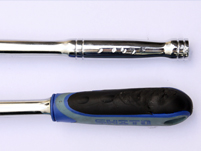 Graphic 1-1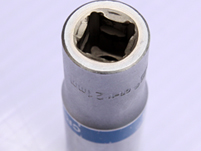 Graphic 2-1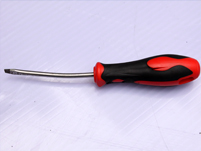 Graphic 3-1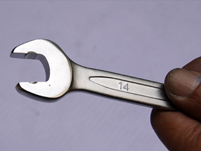 Graphic 4-1