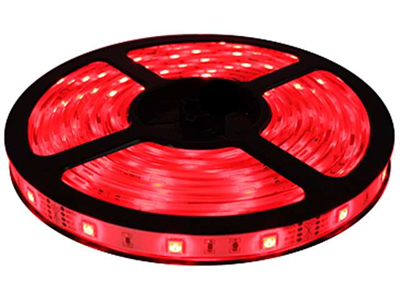 HitLights Non-Waterproof Red SMD3528 LED Light Strip
300 LEDs, 16.4ft Roll, Cut to length - 72 Lumens per foot, Requires 12V DC, IP30
Description
Our 3528 LED Light Strips are thin and discreet lighting products that can be mounted directly on most surfaces to provide professional-quality lighting effects. These 16.4ft strips operate on 12V DC power, and can be used with a variety of dimmers, switches, connectors, and other low-voltage accessories to accomplish a wide variety of lighting tasks such as accent lighting. Not only are our LED Light Strips simple to install, but they can last for years with minimal power requirements.
Product Features:
Available in Cool White (5000K), Warm White (3000K), Red, Green or Blue
Can be cut and reconnected every three LEDs (One Inch)
Come with included 3M adhesive backing for easy application
2 Year Warranty
Installation Instructions:
Clean the surface you intend to stick the light strip to
Peel off the backing strip off the 3M adhesive tape
Press and hold the light strip firmly against the surface
Plug your light strip into a compatible 12V DC power supply or dimmer
Connect your power supply to a wall outlet
Enjoy your beautiful LED light strip!
Technical Specifications:
Input: 12V DC
Output: 72 Lumens per Foot
Strip Width: 8mm
LEDs: 300 Per Spool, 2 Per Inch