LIAN LI O Series
Open-Air, Wall-mountable Aluminum Chassis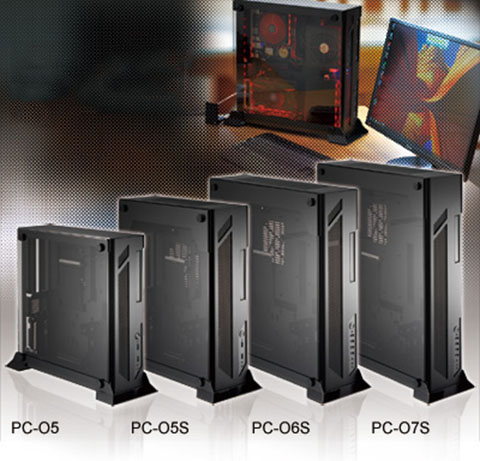 (PC-O7SW)
The LIAN LI O series chassis will be a hit as they look incredibly cool. They are open-air cases with a full aluminum design. The only part that's not made of aluminum is the see-through, tempered glass side panel, which allows you to see the full guts of the PC. The O series chassis is wall-mountable, and can be placed in a vertical or horizontal position on a desk.
Whether in hardware compatibility, expandability or cooling performance, the slim LIAN LI O series chassis doesn't make any compromise. Generous internal space accommodates large-sized PC components. It also provides multiple options to install your 3.5" and 2.5" HDDs. The airflow cooling solution works together with AIO water-cooling solution to keep your system running in top condition.
The new O series includes four chassis: the PC-O5 (with a single preinstalled fan only), and PC-O5S, PC-O6S and PC-O7S (with support for AIO water-cooling system).
Show Off Your Hardware in Slim Profile Chassis
The new LIAN LI O series chassis reflects the feedback of the worldwide DIY community, and features oversized tempered glass windows, PCI riser cards, and sleek aluminum construction. Through the oversized tempered glass window, onlookers can see the entire build unrestricted. Graphics cards are installed parallel to the motherboard, keeping the chassis slim, thanks to the included PCI riser card and extension. An anodized aluminum shield covers the hard drive cage to keep a super clean look.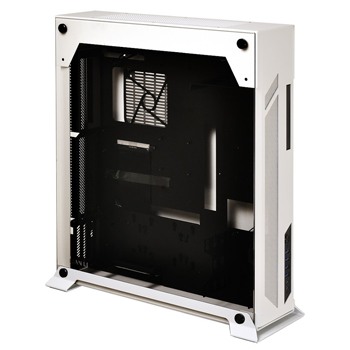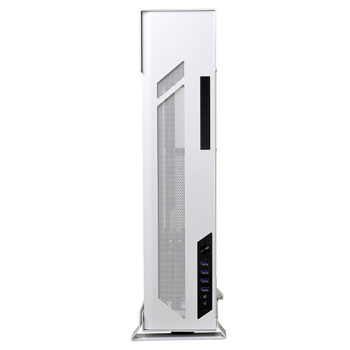 Versatile Placement
The new LIAN LI O series chassis can be mounted to the wall, placed on a desk in the vertical position using the included aluminum stand with rubber grip, or arranged horizontally on four attachable feet with rubber padding(not included).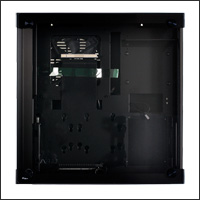 Wall-mount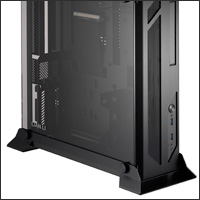 Vertical feet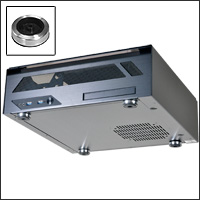 SD-02(Optional)
for horizontal placemen
Roomy Inner Space for PC Components
In addition to support for ATX, SP-ATX, and E-ATX motherboards, the PC-O7SW can accommodate graphics card of up to 310mm in length (or up to 410mm when removing HDD rack), CPU cooler of up to 85mm in height, and ATX power supply of 220mm in length.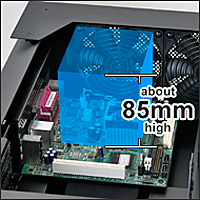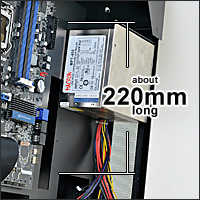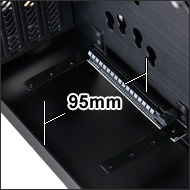 95mm wide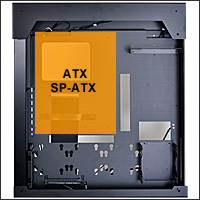 MB Type : ATX SP-ATX(12" x 10.6")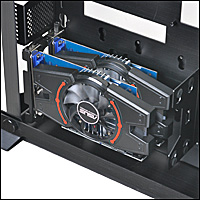 Dual Graphics Card Support
(Optional PW-PCI-E)
Customizable Storage Options
The PC-O7SW gives builders several options for storage installation. Hard drives can be mounted in the hard drive cage, directly mounted on the motherboard tray, or installed on a removable bracket behind the motherboard
HDD Rack: HDD rack can support three 3.5" drives and one 2.5" drive.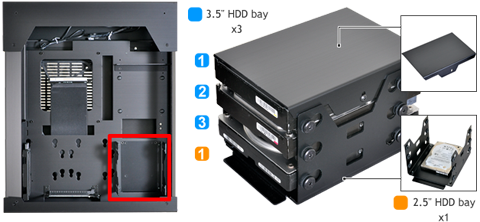 On the MB Tray:You can mount three 2.5" or 3.5" drives on the MB tray. (Occupies PCI slot space)

Behind the MB Tray: Drive rack in the behind of the MB tray supports one 3.5" and two 2.5" drives or three 2.5" drives or two 3.5" drives.

High-efficient Cooling Solutions
Maximum Airflow
With support for four fans, the PC-O7SW delivers voluminous airflow in your PC case. Fan frame cover is preinstalled with three 120mm fans. Fan holes in the back allow you to install one extra optional 140mm fan.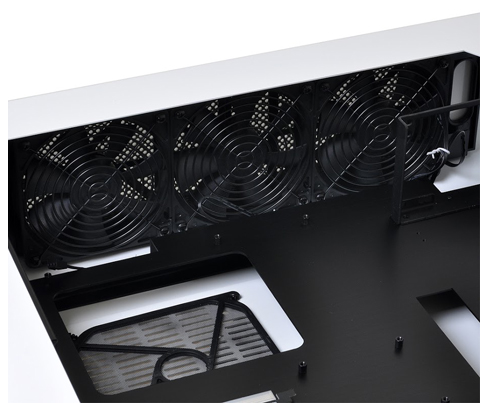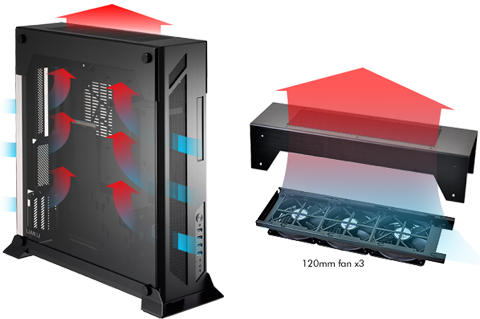 Water Cooling Support
With AIO water cooling support, the PC-O7SW is designed to fit large radiators up to 400mm. Now, you can choose to quiet down your hottest components - the GPU and CPU, with water coolers.
Handy I/O Panel & Cable Management Space
Built with quality and attention to details, the LIAN LI O series sets itself apart from all the others in its class. The front I/O panel offers two HD jacks and four SuperSpeed USB3.0 ports for blazing-fast data transfer speeds. The cable management space manages cables in your chassis to create neat inner look and enhanced, smooth airflow.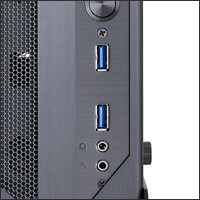 USB 3.0 / HD Audio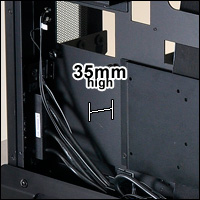 Cable Management Space: 35mm high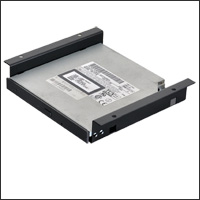 Slim ODD Rack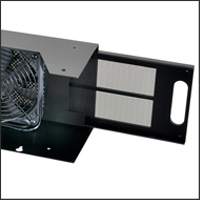 Filter(Top)